Peewee Rebels battle to very end on gridiron
Posted on November 2, 2016 by Taber Times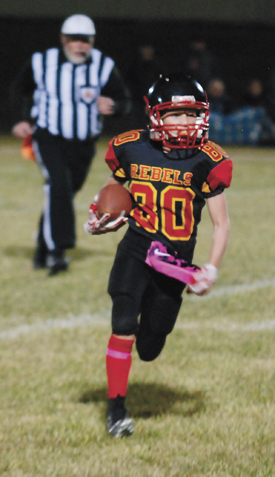 THE FLASH: Mason Werewka of the Taber peewee Rebels football team dashes up field for a big gain against Magrath at Ken McDonald Memorial Sports Park last Thursday. The game was the team's last game of the 2016 season. TIMES PHOTO BY GREG PRICE
By Greg Price
Taber Times
gprice@tabertimes.com
In what was a tightly contested game in front of a solid crowd of spectators at Ken McDonald Memorial Sports Park last week, Taber peewee Rebels football team lost a 14-8 decision to Magrath in the 'A' consolation final.
Mason Werewka had the lone Rebels touchdown and Ezra Oevering made the convert, going nine-for-12 in the kicking department, in a league that stresses the skill at a premium.
"I was quite impressed with Ezra's season as he was consistent with the kicking game all season, having great kick offs, as well as point-after attempts," said Jamie O'Connor, head coach of the Taber peewee Rebels. "When you do the math, with kicks being worth two points in the league, that's 18 points he put on the board all by himself. He also stepped up on offence with a kickoff return touchdown and two other touchdowns throughout the season."
Quarterback Aiden O'Connor had what the coaching staff declared as his best game of the season, despite the loss, with his gritty performance. Completing two long completions to Kade Lund, along with a few short-route completions, Aiden kept the Magrath defence honest.
"He was able to sell the quarterback draw and the quarterback keeper up the middle. He earned every yard he got, he proved to Magrath if he was going down, it wasn't going to be easy," said O'Connor. "We all knew how much speed Aiden has, but we felt he finally showed it that game. It didn't result in scores, but it kept drives alive throughout the game."
While not the result the Rebels wanted, the head coach added he hopes the players learned how much the intensity goes up in a game when playoffs arrive. The Rebels were in every single game this season except for a loss to Cardston, as the team's other three losses were by a combined 13 points.
"All in all the boys played great, had fun, and developed their skills in a very competitive division," said O'Connor. "We were a very exciting, talented team."
That excitement included going almost four full games without surrendering a major on defence. Werewka led the Rebels' offence with eight touchdowns, as the Rebels outscored its opposition 89-6 in its first four games.
Tyson Harker and Nathan Van Reeuwyk played a level up at peewee from atom, proving they belonged as starting linemen.
"Those two were competing against players up to two years older than them and neither of them looked out of place," said O'Connor. "I appreciated what they were able to do, as I know how intimidating it can be to play against older kids."
There will be 14 peewee players moving up to bantam next year.
"It will be exciting to watch these young men grow and improve at the next level. It's always a surreal moment when the season is officially over, but we told the boys at the end of the Magrath game, we have no regrets and we know we left everything we had to offer on the field," said O'Connor.
REBEL YELL: The W.R. Myers Rebels who will be competing for a Tier IV provincial title, were on hand at the peewee Rebels game to warm up with the team and cheer them on.
"I felt it was a great mentorship moment as these boys look at the high school like they are pros and hope to be like them someday," said O'Connor.