Celtics mash at Monster Smash with volleyball dominance
Posted on November 2, 2016 by Taber Times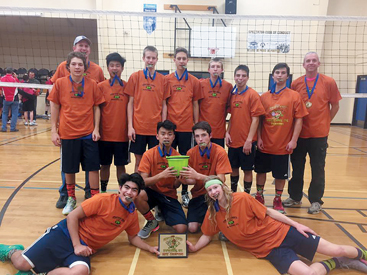 GHOULISH GOOD TIME: St. Mary's Celtics boys volleyball team show off the gold medals they won at the Vulcan Monster Smash Volleyball Tournament this past weekend. TIMES PHOTO SUBMITTED BY JOHN MULLER
By Greg Price
Taber Times
gprice@tabertimes.com
St. Mary's Celtics boys volleyball team look to be peaking at the right time as the squad starts to turn the corner towards zones.
The Celtics took the tournament title in Vulcan this past weekend at the Monster Smash.
"With the Monster Smash Invitational, we got to see some teams we've never seen before," said John Muller, co-coach of the St. Mary's Celtics boys volleyball team. "Even though we went undefeated in the tournament, we had some match ups in the quarter-finals and semis that really tested the heart of the team."
Playing host Vulcan and Picture Butte in those matches, the Celtics found themselves having to come from behind due to numerous unforced errors.
"The boys really battles through those patches and still found ways to win, which showed their character," said Muller.
That made for a match up with Acme Redmen in the final which made for contrasting styles of volleyball, with the St. Mary's brand proving superior with the Celtics sweeping the Redmen in two straight sets.
"They are arguably one of the top contenders to win 1A provincials this year, as they took out Gershaw in the semifinal in two straight. It made me a little nervous knowing they had a completely opposite type of offence to ours," said Muller. "They had two really strong left sides, where our strength is in the middle. Shutting their powers down early and gaining all sort of momentum, the boys were truly firing on all cylinders. We had offence from all our players and proved to be too much for the Redmen."
The Celtics are now off for two weeks until 2A zones at Lethbridge College on the Nov. 12 weekend.
"It's a little scary having this break because we've been on a roll. You don't want too much time off, but the break is nice having played four weekends in a row," said Derry Kolody, co-coach of the St. Mary's Celtics boys volleyball team. "The rest is good, but with such a dominating championship (on the weekend), you'd like to keep that fresh in their mind going into zones."