Taber Pheasant Festival successful
Posted on October 26, 2016 by Taber Times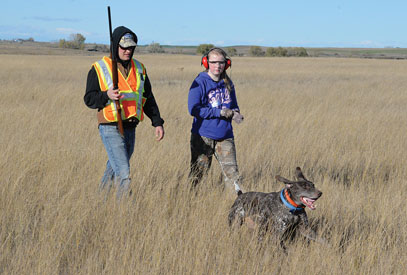 TIMES FILE PHOTO
By Nikki Jamieson
Taber Times
njamieson@tabertimes.com
The sixth annual Taber Pheasant Festival draws to a close, after seeing more hunters and pheasants than ever before.
This year's Taber Pheasant Festival has seen approximately 750 hunters descend on the Municipal District of Taber, all to bag some of the 5,100 pheasants released in 40 different locations by the Alberta Conservation Association. Last year's festival saw 700 hunters arrive in the area to hunt the 5,000 pheasants released.
"It was great to see so many people out supporting the festival and enjoying all that we had to offer," said Todd Zimmerling, president and CEO of ACA. "On behalf of the Taber Pheasant Festival organizing committee, I want to thank all those businesses, landowners and volunteers that helped to make this a successful event and something that others are trying to aspire to. This is Canada's largest hunting festival and yet another thing that Taber and surrounding area can be proud of."
With the exception of a strong wind on Sunday, Oct. 16, the festival went smoothly. The novice hunt saw more then 70 new hunters attend. The Rick Smith dog training seminar was well attended, with attendees picking up valuable tips for them and their dogs. The Game to Gourmet culinary event was sold out, with music from local Taberite Tanner James providing the "perfect extra touch". The Celebration Dinner also sold out for the first time in the festival's six year history, seating 376 people.
"It was great to have a full house and we're so thankful for all the sponsors, landowners and hunters that help make the festival such a success."
Zimmerling was surprised at all of the support the festival received this year from restaurants in the area, with many providing discounts to registered hunters.
"We heard a lot of positive comments from the hunters, so hopefully the local businesses saw a benefit as well," said Zimmerling. "I know I personally didn't realize all the culinary options available in Taber."
The Taber Pheasant Festival was started in 2011 by the ACA, to help make southern Alberta a preferred destination for hunters.
In addition to releasing thousands of pheasants into the area during the festival, they work together with 4-H clubs to raise and release pheasant hens into the area to help raise the pheasant population. Local farmers and ranchers have also been modifying their operation practices to help conserve pheasant and other local wildlife populations.
In 2015, the festival received an Alto Award for Outstanding Sustainable Tourism at the 15th Annual Travel Alberta Industry Conference.