Peewee Rebels prepping for football playoffs
Posted on October 19, 2016 by Taber Times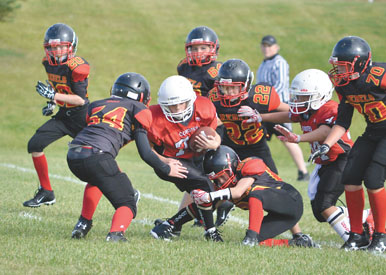 TIMES FILE PHOTO
By Greg Price
Taber Times
gprice@tabertimes.com
Taber peewee Rebels football team heads into the playoffs after splitting its last two regular-season games.
The Rebels won a tough road game on Oct. 5 with a 13-0 win over Magrath.
"It was a cold evening, and it showed in the performance. Kids on both sides were fairly slow moving," said Jamie O'Connor, head coach of the Taber peewee Rebels football team, adding Mason Werewka scored both Rebels' touchdowns.
"The defence stood tall once again as that was the third straight game without allowing a score of any kind. It was one of those games where you can leave and be happy you walked away with the victory," said O'Connor. "It could have really gone either way with the exception of a few plays that gave us the victory. Magrath was a very fast team, and we felt fortunate to come away with the victory."
Last Thursday saw the Rebels fall 27-6 to Cardston.
The Rebels did have the lead in the game as Werewka scored from the second play from scrimmage. But, Cardston was able to grind down the Rebels' defence to take a 14-6 half-time lead and then never look back.
Werewka suffered an injury early in the game which affected the offence.
"But, you couldn't say the loss was due to a lack of effort as Kade Lund and Aiden O'Connor did what they could to try and get the offence back on track, but fell just short on a few drives," said O'Connor. "Lund stepped up by taking up to four defenders to take him down when he had possession, pounding his way for every yard he could get. Aiden was successful in selling many fake reverses and running for as many yards as he could scramble for, including a 55-yard yard run as he ran up the middle, away from the outside blitzes."
First-year peewees Liam Clarkson, Brennan Abela, Noah Mouland and Logan Porter all stepped in to fill the void at different times left by Werewka and did an admirable job according to O'Connor.
"Unfortunately, we had a few decent drives that stalled out at the 25-30 yard line. You need to capitalize on every possession if you want to beat a team like Cardston," said O'Connor. "Cardston was also very speedy in the secondary and closed gaps quickly."
Alec Boes recovered a fumble for the Rebels while being involved in numerous tackles. Cohen Broadbent recorded an interception.
"We feel Alec has really stepped up this year defensively and is a player we can count on to get the job done," said O'Connor.
The Rebels finished the regular season with a 3-2 record, which placed them third in the 'A' division behind Raymond (5-0) and Cardston (3-1-1).
Playoffs start this Thursday with the Rebels having a 6 p.m. game against Lethbridge Junior Rams at Ken McDonald Memorial Sports Park.
"We feel we can still win it all, it's just that playoff path has to go through Cardston and Raymond who claimed the top-two seeds. We had very competitive games against both of them," said O'Connor.