Celtics end Double Blue drought
Posted on October 19, 2016 by Taber Times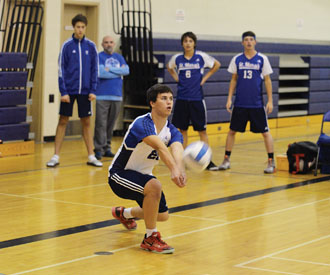 TIMES FILE PHOTO
By Greg Price
Taber Times
gprice@tabertimes.com
St. Mary's Celtics boys volleyball team made some history on the weekend, as the squad took home the title of its Double Blue Volleyball Tournament on Saturday —the first time the boys program has been able to do so since 1992.
"In pool and playoff play, we didn't drop a set all weekend," said Derry Kolody, head coach of the St. Mary's Celtics boys volleyball team. "And it was some tough competition. Immanuel Christian is always a zone contender. Vauxhall was muchly improved from when we played them earlier this year and Picture Butte, it's always Picture Butte, Fort Macleod or Immanuel Christian that represents the zone at provincials."
It was Picture Butte that the Celtics played in the semifinal and the Celtics won 25-19, 25-22.
"They were leading most of the match, so we showed character coming back and showing composure," said Kolody.
The final showcased the Celtics against Immanuel Christian Eagles where the Celtics played them a second time and beat them again, 25-20, 25-22.
"We passed really well and I'm getting a lot of contributions from my outside hitters. I rely heavily on Kaleb Muller and Tyson Phillips as my middles with a really good setter," said Kolody. "I need my outside hitters to get scoring and they are. We are really starting to notice that when we play teams that have already played us, they are trying to send two-three blockers against us in the middle, so it's very important that we get those outside hitters going."
With some of the best passing Kolody has seen the Celtics do all season, the outsides were able to do just that, including Jobert Cruz who ended up getting a tournament all-star.
With a second-place finish at a tournament the previous weekend, the Celtics are on a bit of a roll as it looks to compete in a benchmark tournament in Picture Butte this weekend.
"It is the creme of the crop for 2A. Every 2A team that has finished in the top three (at provincials) in the last four years is at this tournament," said Kolody. "And we do not have any south teams in our pool. We have Calgary Christian, CASH from Lacombe… It will be a good test, we are pretty excited. We know to get to that next level, we have to beat the teams at that level."
The St. Mary's Auroras girls volleyball team ended up in second place in its pool before advancing to the playoffs where the Auroras were victorious over Senator Gershaw Gators in two straight sets in the quarter-finals of the Double Blue Tournament.
The Auroras played eventual tournament-winning Picture Butte Queens in the semifinal, losing 16-25, 20-25.