TEA earns tourism accolade for sport
Posted on October 13, 2016 by Taber Times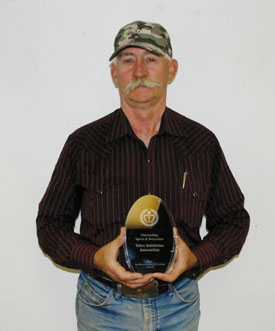 BIG WINNER: Frank Kast, president of the Taber Exhibition Association, shows off the award his organization won for volunteers' tireless efforts to keep the Taber Agri-Plex busy. TIMES PHOTO BY GREG PRICE
By Greg Price
Taber Times
gprice@tabertimes.com
The Taber area was noticed at the recent Southwest Service and Tourism Awards earlier this month in Lethbridge.
The Taber Exhibition Association's commitment to raising its awareness in the community had it win in the category of Outstanding Sport and Recreation, going up against some lofty competition.
Hugely successful farmer's markets, the Family Cowboy Christmas, several rodeos, the Cornfest Bull-a-Rama, the annual horse show, barrel racing jackpots — the association makes the Taber Agri-Plex a bustling venue, and the Chinook Country Tourist Association noticed.
"From some of the executive's point of view and mine for sure, we've wanted to make more people aware of what we do up there," said Frank Kast, president of the Taber Exhibition Association.
"There's people in Taber who do not even know that building exists, never mind that we do events up there. A lot of people think we do just one rodeo a year. There's barrel racing, there's team roping, there's rodeos, there's bull riding, we do horse clinics of different kinds. We have the Farm Safety Day, we have 4-H events. There's events year round. We're trying to keep things busy and give options to people."
Because it's an agricultural building that is farm based, and being an ag society, the plethora of activities that go on at the Agri-Plex stick to its name sake in its focus.
"There are lots of other facilities in Taber for people who may not be at all inclined for agriculture, but this gives them that option," said Kast.
Taber Exhibition Association won its award in a field of four other nominees, some of them being very big heavy hitters in the sport and recreation field.
"I thought it was pretty awesome. Some of them were big-name entities like the Lethbridge Hurricanes that were nominated in the same category," said Kast. "But as a tourist organization doing the awards, they are looking at what draws people to an area. The Hurricanes are good, but do they draw outside people? Every event you have in town is going to create some spin-off industry. People are going to stop and put some gas in their car, someone is going to stop and have something to eat or check out a store — that is what tourism is about."
Earning the award is a feather in the cap for the TEA as along with the executive, other volunteers as well help keep the Taber Agri-Plex humming.
"There is a lot of work that goes into keeping that building and activities going, so it was nice to be recognized. We are hoping we can make people in Taber a little more aware," said Kast. "It's every group, not just the TEA, every group, when they hold an event, they are drawing people into town, even if it's just from the M.D. of Taber. And that helps the economy. I want to include in that, recognition for every association in this town, everything we can get into Taber helps everything else in Taber."
The Taber and District Chamber of Commerce office manager in Anne Jensen won her category for tourism promotion.
"Anne has been there for three years and from Day One I've been impressed with her work ethic. She takes things by the horns and gives them direction and runs with it," said Matt Williams, president of the Taber and District Chamber of Commerce. "The Chamber newsletter, she just started doing that on her own. She is definitely a go-getter, self motivator. I have no hesitation or worry with how the office is running when she is around. She does a fantastic job. She is great with people who come into the office from out of town an din Taber. Very proud of her getting that award."
While Taber's annual Cornfest did not win for best festival or event, with Oktoberfest YQL winning, to have a free festival in the running against other -for-profit ventures is impressive nevertheless.
"(Being nominated) in my mind, it's a reflection of all the volunteers we've had over the years that makes Cornfest what it is," said Williams. "All those that go every year, we know how fun and fantastic it is. It's validation and proof of the quality of people that we have behind the scenes that help make Cornfest a hub for tourism in the area."
While exact numbers of what Cornfest draws to Taber for people are only guesstimates given it is a free festival with no gate entry, the common mantra is the town doubles in size with the foot traffic Cornfest brings throughout the weekend in August.
"I've heard that estimate of between 8,000 to 10,000 people being there at any one time," said Williams. "Bringing that many people to town, that's good for business. People are walking downtown for the show and shine, now we have the parade. We hope it spills over to the rest of the town."