St. Mary's athletes going cross country
Posted on October 13, 2016 by Taber Times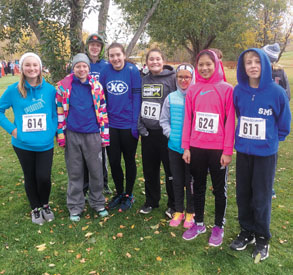 TIMES PHOTO SUBMITTED
By Greg Price
Taber Times
gprice@tabertimes.com
Eighteen student athletes from St. Mary's School competed at the cross country ASAA zone meet in challenging conditions last Wednesday.
"We had students from Grade 7-12 who braved the cold to compete. It was the first time in five years that the meet was held at a different venue, so the students got to try out a new course at the Lee Creek Golf Course in Cardston," said Carolyn Siemens, cross country coach at St. Mary's School.
"Although the weather was cold, the students had a great day competing and spending time supporting one another in their events."
Both Kaleb and Mason Muller qualified for the upcoming cross country provincial meet on Saturday in Cochrane, but will not attend due to their volleyball skills being needed at the Double Blue Tournament Oct. 14-15.
"Unfortunately, they can not attend because we are hosting our Double Blue Volleyball tournament that weekend, and they are a huge part of that team. St. Mary's is proud of all our athletes who participated in cross country, as we like to encourage health and wellness and this is a sport they can easily continue to participate in through the years to come," said Siemens.
The following are the results of St. Mary's athletes at the 2016 Cross Country ASSA Meet in Cardston:
Gr 7 2 KM
Preslee Muller 11:12
Neah Salazar 11:49
Olivia Currie 11:58
Marissa Kinniburgh 12:10
Brendan Appleton 11:36
Gr 8 2KM
Mackenzie Baynham 11:47
Jack Murphy 9:52
Brylan Span 10:19
Beau Huseby 10:23
Carson Komery 10:42
Aaron Klok 15:53
Gr 9 3KM
Alyssa Pavka 17:51
Seth Muller 15:22
Gr 10 4KM
Rory Murphy 18:44
Gr 11 5KM
Mason Muller 20:58
Gr 12
Sammy Tams 29:48 (5 KM)
6KM
Kaleb Muller 24:46
Tyson Phillips 32:00