A Pheasant Week for hunting families
Posted on October 13, 2016 by Taber Times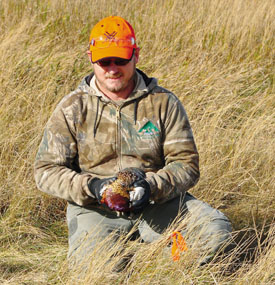 TIMES FILE PHOTO
By Kelley Stark
Submitted by Alberta
Conservation Association
Award-winning Taber Pheasant Festival is just around the corner: a week jam-packed full of pheasant hunting, pheasant eating, scotch drinking and great music.
The festival runs from October 15-22 in the Taber/M.D. of Taber area with plenty of activities to keep hunters and non-hunters busy.
There will be a culinary event. Though calling it that doesn't quite get across how amazing it will taste. However, "Super-Yummy-Delicious-Heavenly-Pheasant-Eating Event" doesn't flow as well off the tongue.
Four noted Calgary chefs from Shokunin, Winsport, Brasserie Kensington and Chef's Table will be on hand presenting different methods and different flavours of the same ingredient.
Legendary bird-dog trainer, Rick Smith, will be sharing his more than 45 years worth of knowledge and experience. A free lunch will be offered by the Town of Taber to make the line-up for registration a little more palatable.
Scotch tasting and wings will be served one evening; nothing tastes better with appetizers than a glass of high-end whisky.
Pheasant hunters are invited to use the M.D. of Taber Sports Shooting Complex for gun sighting (rifles only) and to pattern shotguns.
And, finally, there will be a celebration banquet and silent auction to thank sponsors and landowners.
There are four raffles this year. One for three guaranteed hunting dates at next year's festival and two for firearms. These three will be drawn at the banquet though the winner does not have to be present to win.
The other raffle was drawn on Sept. 16 for this year's festival. The prize was for up to four friends to receive a hunting site accompanied by an expert hunter with trained hunting dogs.
Novice hunts will take place on October 15-16. Anyone 12 and over is invited to learn how to hunt with professional mentors providing they have completed the Alberta Hunter Training Course.
Regular hunts run for the rest of the week. All spots have been filled, but there are often changes right up until the last minute so don't lose hope.
For more information, please check out the website at taberpheasantfestival.com.
October 15-16: Novice hunts
October 15: Rick Smith dog handling seminar
October 17-22: Regular hunts
October 17: Free lunch
October 17: Culinary Event & Music by Tanner James
October 18-19: Free Sport Shooting
October 19: Scotch Tasting & Wing Wednesday
October 20: Celebration Dinner