St. Mary's taking volleyball by Storm
Posted on October 5, 2016 by Taber Times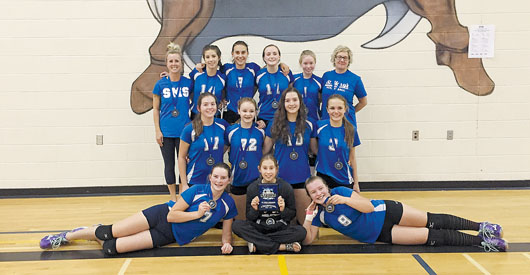 STORM WATCH: Senior varsity Storm girls volleyball team are all smiles after winning its home tournament. TIMES PHOTO SUBMITTED
By Greg Price
Taber Times
gprice@tabertimes.com
Senior varsity Storm girls volleyball team emerged with the title of its home Big Storm tournament this past weekend.
The squad won its pool before defeating a tough Irvine squad in the crossover semifinals.
The final match went the full three games in the defeat of Foremost.
"The Storm dominated the last set through amazing serving, passing and communication. The girls played as a team and really came together as a group this weekend. We are so proud of them," said Kira Lawrence, head coach of the St. Mary's Storm varsity girls volleyball team.
The senior varsity Storm boys volleyball team finished as silver medalists as tournament finalists, taking St. Joseph's from Coaldale to the full three sets.
The Storm boys finished first in their pool, defeating tough rivals Vauxhall and W.R. Myers.
"The Big Storm Tournament was a huge success all with thanks to our incredible St. Mary's community. We had alumni out to help, as well as our current Auroras and Celtics here for officiating all of the games," said Lawrence.
"We also had parents and teachers filling many important roles, and our own Storm players filling in anywhere that was needed. The support of our community is a massive attribute to the success of our teams."
The previous weekend, St. Mary's hosted its Little Storm Tournament which had three St. Mary's teams playing — JV and Grade 7/8 girls and JV boys team.
The Grade 7/8 girls team finished in second, losing to St. Francis from Lethbridge in the final.
The JV Storm girls volleyball team won silver in the F.P. Walshe tournament this past weekend. The Grade 7/8 girls took bronze in the Parkside Tournament in Dunmore this past weekend.
In league play on Thursday, both the varsity and junior varsity Storm boys teams won against St. Joe's.
The tournaments and league play mark the plethora of volleyball St. Mary's has, as along with their high school teams, the school is running four junior high girls and two junior high boys volleyball teams.