Peewee Rebels continue to dominate defensively
Posted on October 5, 2016 by Taber Times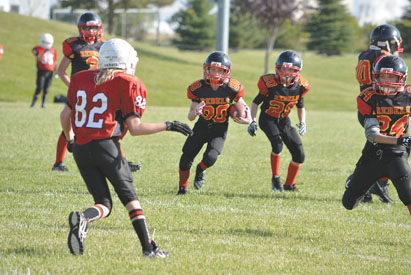 TIMES FILE PHOTO BY TREVOR BUSCH
By Greg Price
Taber Times
gprice@tabertimes.com
A stifling defence has continued to help power the Taber peewee Rebels football team as the squad blanked the Lethbridge Junior Rams 30-0 at the University of Lethbridge early last week.
The Rebels only allowed three first downs all game in the process of registering its second consecutive shutout.
"As the old cliché goes, defence wins championships, and our defence is not giving opponents anything at all," said Jamie O'Connor, head coach of the Taber peewee Rebels football team.
"Whether we have first string or second string playing, they are getting the job done."
Kyler James had the best game of his rookie campaign, continuously putting pressure on the Rams quarterback the whole game, registering two sacks in the process along with being a part of numerous tackles.
On offence, quarterback Aiden O'Connor was given the freedom to call his own plays from what he was reading by what the defence was giving him, resulting in three of the four Rebels touchdowns through the air.
"He showed a lot of maturity by reading how the previous plays went and what plays they were keying on," said O'Connor, "I've been very impressed with the overall effort of the whole team. These boys are battling for each other on every play."
Ezra Oevering continued to be a kicker some bantam teams would be jealous of, as he was 3-for-4 on converts and 8-for-9 in his last two games in a league where kicking is usually developmental.
"He's been great to watch as I believe most teams that we've faced don't have a kicker," said O'Connor of Oevering who also scored a Rebels' touchdown.
Brendan Klassen proved to be a two-way player, scoring a major, along with having a strong defensive game as well.
"He's a natural athlete and goes to work and does whatever he is asked," said O'Connor.
Mason Werewka continued to be a major machine, storing two more touchdowns, making it five in the last two games.
"He's been a great leader on both sides of the ball and works hard at practice and it shows when game time rolls around," said O'Connor.
Taber peewee Rebels are off to Magrath today for a 6 p.m. game.