Bantam Rebels break into win column
Posted on October 5, 2016 by Taber Times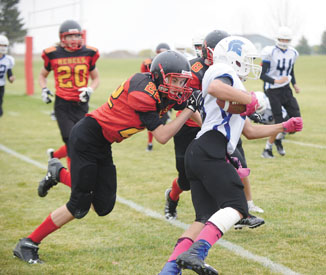 REBEL ROUSER: Taber bantam rebels' halfback Shawn Harris corrals a Coaldale Spartans player during Southern Alberta Minor Football Association play at Ken McDonald Memorial Sports Park on Saturday morning. TIMES PHOTO BY CODY SEKURA
It was a much-needed win Saturday for the Taber bantam Rebels.
After starting the season 0-3, which included a pair of close losses, the Rebels emerged with a 40-13 victory at home over the Coaldale Spartans at Ken McDonald Memorial Sports Park.
"To say it was a very important game for us would be a massive understatement," said Rebels head coach Garrett Simmons. "We have a lot of new players on the team this year, and to get that first taste of victory was very key moving forward."
Unlike the week before, when the Rebels fell behind 21-0 in the first quarter, Taber took control early, as the home team rattled off 34 first-half points.
"It was great going into halftime with such a big lead," said Simmons. "It was a huge weight off our shoulders and allowed us to use a lot of different players in a lot of different positions in the second half."
Oskar Timofiejew scored two first-half touchdowns for the Rebels, which included a long run late in the second quarter to put Taber up 34-7.
"We had some key blocks made up front by our offensive line on that play, and Oskar did the rest," said Simmons, who added the Rebels offence featured a balanced attack. "Our running game actually struggled a bit early, and so we went to the air and converted on a number of long passing plays. That really seemed to loosen up the Coaldale defence."
Shawn Harris was the main benefactor of that string passing game, as Harris hauled in two touchdown passed from quarterback Brett Bullock. Nolan Tams hauled in another Bullock touchdown pass, as six different receivers caught passes.
"We really spread the ball around and made it tough for Coaldale to focus on any one player," said Simmons, who added one long pass play in particular stood out. "Malachy Young made a great juggling catch for big yardage in the first quarter that helped set up a touchdown. It was an example of great concentration and athleticism."
Bullock added a second-half touchdown, as the quarterback converted a long drive with a one-yard plunge into the endzone on a quarterback keeper.
That was all the scoring the Rebels would need, as the defence forced four Coaldale turnovers. Harris had an interception for Taber, as Quinn Bailey, Trey Halvorson and Tucker Mouland recorded fumble recoveries.
"Those turnovers were extremely important," said Simmons. "Every time our defence forced a turnover, the offence responded and put points on the board. Really, our defence made life a lot easier for us in that game."
Young paced the defence, as the middle linebacker led the Rebels in tackles, which included a touchdown-saving tackle on Coaldale's stud slotback.
"Malachy made a great play on the sideline and forced him out of bounds, which definitely saved six points," said Simmons, who added the trio of defensive end Luke Jensen, outside linebacker Connor Tams and halfback Josh Bekkering also helped contain Coaldale's star player. "We really focused on trying to force him to the inside, and those three were key in helping achieve that."
The Rebels are now off until Thursday, Oct. 13, when Taber will travel to Cardston to face the Cougars. That game will wrap up the regular season, as the Southern Alberta Minor Football Association playoffs will begin the Oct. 22 weekend.
"We want to keep building towards the playoffs," said Simmons. "With so many kids new to the sport this year, it's all been about teaching the fundamentals and trying to get better every week. We hope we can build off this first win and have the kids peak at the right time in late October."