Rebels girls undefeated in league play
Posted on September 28, 2016 by Taber Times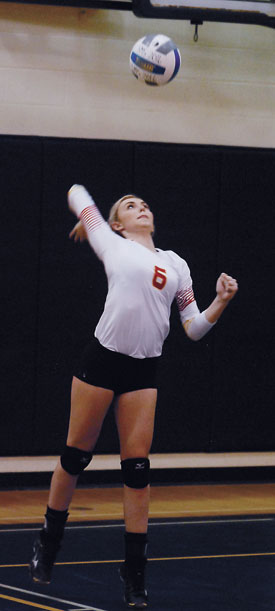 COURT IS IN SESSION: Calista Haynes of the W.R. Myers Rebels varsity girls volleyball team serves the ball against St. Mary's Auroras last Tuesday night at St. Mary's. TIMES PHOTO BY GREG PRICE
By Greg Price
Taber Times
gprice@tabertimes.com
W.R. Myers Rebels varsity girls volleyball team has already garnered itself plenty of positive momentum in its young season to date.
The Rebels made it to the semifinal of its league pre-season tournament, falling to Catholic Central Cougars, but managed to avenge that loss in the semis of its next tournament, showing some of the parity of the league in its top half.
"With the teams in the league, among the top teams, they are pretty equal this year. There isn't one that really dominates," said Dee Schramm, head coach of the W.R. Myers Rebels varsity girls volleyball team. "Chinook is strong, but they are not as strong as they have been in the past. It's not one of those years where everyone knows who is going to win it. There's going to be some good battles this season."
The Rebels then managed to win the Lethbridge College Kodiaks Invitational Tournament on the Sept. 17 weekend, which included a thrilling 18-16 third-set win over Catholic Central, before dispatching Eagle Butte in the final.
Mackenzie Lewicki was voted tournament MVP.
The Rebels have had a stout defensive presence in the first quarter of the season as it looks to vary its attack offensively on its way to a 3-0 record to date in Southern Alberta High School Girls Volleyball League competition.
"Our defence is what is excelling right now. To me, there is no such thing as can't. The girls bring back some balls that you think are undiggable," said Schramm, adding it helps frustrate teams in having to alternate their original game plan offensively. "I've always taken pride in defence, but this year I have a team where I can run different plays where our offence feeds off our defence."
The Rebels played Chinook Coyotes on Monday with a home Tuesday match against Picture Butte with results unavailable at press time. The team is off to the Green and Gold Tournament this weekend.