Gridiron Rebels corral Mustangs
Posted on September 28, 2016 by Taber Times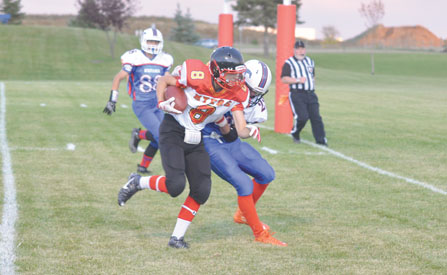 CATCH ME IF YOU CAN: W.R. Myers Rebels' Bradley Marsden heads to the end zone after a reception against the Pincher Creek Mustangs on Fan Appreciation Night at Ken McDonald Memorial Sports Park on Friday. TIMES PHOTO BY TREVOR BUSCH
By Greg Price
Taber Times
gprice@tabertimes.com
Ironically enough, it was the W.R. Myers Rebels horses that were galloping the most at Ken McDonald Memorial Sports Park on Friday night against the Pincher Creek Mustangs.
As tradition on Fan Appreciation Night, every time the Rebels high school football team scores a major, riders gallop their way along the sideline, and there was plenty of that in a 40-10 dismantling of the Mustangs in a very physical game.
With Pincher Creek running a Double Wing-T, stacking most of their players in the middle of the field and relying on brute/mass force to move the ball, the Rebels stayed their ground thanks to the help of defensive tackles Keegan Wesley and Peter Waeckerlin.
"Our defensive line was the story of the game. It's a really ugly game to play on the line because of their offence. Keegan Wesley and Peter Waeckerlin just fought the good fight the whole time. They got abused plugging up the middle, but it forced Pincher Creek to do other things they didn't feel comfortable doing," said Adam Hughes, head coach of the W.R. Myers Rebels football team.
Offensively, the Rebels widened their playbook with more of an aerial attack as three of the team's majors were scored through the air. Receiver Bradley Marsden scored two majors along with Evan Harkness running for two of his own. Tate Platt and Ryan Mankow rounded out the touchdown scoring as the Rebels seemed to move the ball at will most of the time.
"We opened up the playbook a little bit more where we are starting to feel comfortable figuring things out," said Hughes, with Rebels quarterback Mike Sawatzky slinging the ball around to help compliment an already strong running game. "It is a situation where we are going to start spreading the ball around more. With Tate, Bradley and Evan, we have a pretty good three-pronged attack and we have other guys that are pretty good options too, that can stand up at any time."
Scoring so many points made the Mustangs trot into areas they were unfamiliar with which played into the ball-hawking skills of W.R. Myers.
"With Pincher Creek passing more in trying to keep up, that played right into our hands. One of our primary goals is to cause at least three turnovers, and we were successful in that area," said Jason Jensen, defensive co-ordinator of the W.R. Myers Rebels football team, adding Marsden, Jaxon Shimbashi and Brett Andrus each getting interceptions and Kadin Reynolds recovered a fumble which Harkness forced on his way to recording a team-high five tackles. "Thane Buckingham managed to hit the quarterback as he was throwing, which directly caused an interception. I'll take a pick over a sack any day."
That defensive mindset was featured on offence as Hughes praised wide receiver Ashton Bekkering's battles in the trenches that sprung the Rebels' other skill players for big yardage.
"He plays wide out, but he's basically an offensive lineman with how well he blocks. Every play that Evan or Bradley do, he adds 15 to 20 yards to it because of his blocking," said Hughes.
The Rebels are off to Medicine Hat for a JV game on Friday.
"It will allow us to test things out. There may also be players who are not happy with the amount of playing time they get, and this gives them an opportunity to show what they are made of," said Hughes. "It gives us a building opportunity and a chance for some players to move up on the depth chart."
The Rebels then return home on Thursday, Oct. 6 for a 7 p.m. contest against Highwood at Ken McDonald Memorial Sports Park.
"The season has started out fantastic for us, but we still have lots to build on if we want to reach our goal," said Hughes.
REBEL YELL: W.R. Myers Rebels are the second-ranked team in the province for Tier IV.