Auroras continuing to build
Posted on September 28, 2016 by Taber Times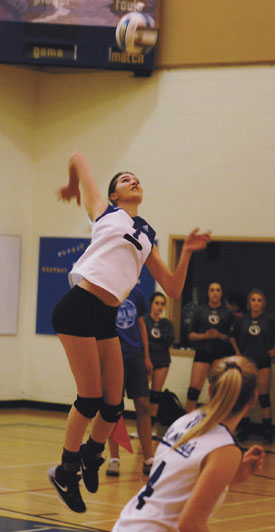 JUMPING FOR JOY: St. Mary's Auroras' Jordan Baynham lays down the hammer to record one of her 21 kills she recorded against the W.R. Myers Rebels in girls volleyball league play. The Auroras would end up dropping the match 22-25, 23-25, 25-22 and 11-25 last Tuesday. TIMES PHOTO BY GREG PRICE
By Greg Price
Taber Times
gprice@tabertimes.com
As the St. Mary's Auroras girls volleyball team continues to battle much larger schools in Southern Alberta High School Girls Volleyball League play, the goal remains the same — to make some noise at 2A zones.
The Auroras have already been battle tested in the early part of the regular season having played league matches against Kate Andrews, Chinook, LCI and W.R. Myers.
"The games have been super competitive. We went to five sets with Kate Andrews our first match of the year, then four with Chinook, four sets with Myers and then five with LCI," said Cassie Mucciarone, head coach of the St. Mary's Auroras varsity girls volleyball team.
"In terms of last year, I already see a big improvement in terms of competitiveness and girls finishing matches. I am very excited to see how the year progresses and see how far we go. We are right there, we work really hard in practice at different things, to minimize mistakes. A lot of our sets have been close, so if we can minimize those couple of errors per set, we can turn those losses into wins."
The Auroras have also competed in two tournaments which included the league pre-season tournament and the Kodiak Invitational at Lethbridge College.
"They went really well. We work on everyone getting a chance to play and moving the girls around to different places which is good because it's nice to see the depth we have and try girls at different positions in case we get an injury," said Mucciarone.
The Auroras hosted Winston Churchill Griffins on Tuesday with results unavailable at press time. The team travels to Catholic Central next Tuesday.
The Auroras next tournament is its Double Blue home tournament on the Oct. 14 weekend.