Stafford concludes successful jet ski season
Posted on September 21, 2016 by Taber Times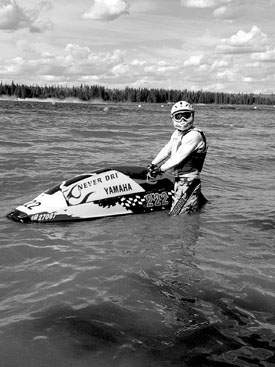 JET STREAM: Taberite Ian Stafford was able to compete in all eight Western Canadian Watercross Association jet ski races this year. TIMES PHOTO SUBMITTED
By Greg Price
Taber Times
gprice@tabertimes.com
Taberite Ian Stafford has a need for speed, and he was able to get that competing out on the water at this past season's Western Canadian Watercross Association jet ski race circuit with some very positive results this past summer.
The circuit was made up of eight rounds in which Stafford was able to compete in all of them this year.
Competitors from the circuit this year came from all over Western Canada including British Columbia, Alberta, Saskatchewan and Manitoba.
Competitions were held at Rattlesnake Lake near Medicine Hat, Saskatoon and Crane Lake near Bonnyville.
"There are between 50 to 75 races registered depending on where the race is with people showing up," said Stafford, who raced in both the novice open and novice masters divisions. "Novice open is anybody who is not a beginner rider, riding at least two years, and you can do anything to your jet ski to make it go faster. You can do hull modification, engine modification…whatever you want to do to make it go faster. It's a very big class."
Stafford would go on to place eighth overall out of 20 riders in the category, not bad considering what the Taberite was up against.
"I had to make a deal with myself where the only way I was going to be able to do this racing thing is if I was able to build a race ski out of all the parts out of my garage. It can cost a lot of money, some of these jet skis are over $30,000, and mine is definitely not that. It's a Frankenstein, put together with a whole lot of pieces to go out there and have a lot of fun. My other things was I wanted to compete in every event and make sure I made it back healthy for work Monday morning," said Stafford, adding he finished third out of 10 riders in the novice masters division.
"Technically, for me, I wasn't worried about where I placed. I just wanted to be an active member promoting jet skiing. As a racer, you can never really turn it off, where when the flag goes, you go still."
Stafford dabbled in the races over the last four years before doing the full circuit this year, and a big drawing point for him was the camaraderie among his fellow racers.
Stafford has also raced snowmobiles along the water before, along with quad racing, in his passion for speed sports.
"I've never seen a tighter-knit group. We had guys whose jets skis would blow up, they would come to a race without a jet ski and somebody would give them a jet ski so that they could continue to race throughout the season," said Stafford. "If you broke something, 90 per cent of the time, someone would lend you that piece so that you could race that weekend. It was an attitude of 'We want you to race, I'd rather you race and me lose than you not race'."