Myers Rebels remain undefeated
Posted on September 21, 2016 by Taber Times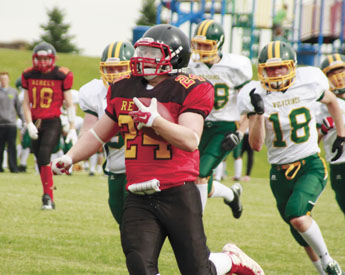 RAMBLING: W.R. Myers Rebels' Evan Harkness (pictured) had a big game against the Canmore Wolverines on Saturday, with two touchdowns and 200 yards rushing at Ken McDonald Memorial Sports Park on Saturday afternoon. TIMES PHOTO SUBMITTED BY CODY SEKURA
By Greg Price
Taber Times
gprice@tabertimes.com
W.R. Myers Rebels football team pushed its record to 3-0 on the young gridiron season with a 29-0 blanking of the Canmore Wolverines.
Running back Evan Harkness proved a workhorse once again, churning out 200 yards on the ground with some solid blocking, on the way to scoring two majors as well at Ken McDonald Memorial Sports Park on Saturday.
"They had had some really good interior defensive linemen, so it was tough to run up the middle. We did off-tackle stuff which has been the focal point up to this point," said Adam Hughes, head coach of the W.R. Myers Rebels football team. "We've done a few things different but we're keeping things pretty conservative, we haven't really opened up our playbook yet. We had guys from other teams filming the game, so we kept things tight to the chest with similar stuff we've used in the first two games."
Scoring the other majors for the Rebels were Tate Platt, and Bradley Marsden on a pass completion from quarterback Mike Sawatzky.
Hughes added the score of the game was a tad misleading with how tough of a battle in the trenches, as the Wolverines proved much more tenacious tacklers than the previous week when the Rebels upended the Winston Churchill Bulldogs 47-14.
"When Evan busted into the open field, they did a good job of bringing him down and containing him. It could have been a lot worse," said Hughes. "The 29-0 score was a tad flattering for us. It was 15-0 halfway through the fourth quarter. I felt like we controlled the game flow, but it's not like we were dominating. It wasn't a blowout by any means."
For a team that is always looking to improve and not rest on its laurels of a 3-0 start, the Rebels did have some ball security issues with a couple of fumbles that gave the Wolverines a short field to punch a major in. But the Rebels held strong on the defensive side to earn the shutout.
"As a defensive co-ordinator, I'm obviously thrilled with a shutout. The defence stood tall in some tight spots in the game after some unfortunate bounces," said Jason Jensen, defensive co-ordinator for the W.R. Myers Rebels football team. "We blitzed pretty relentlessly, and Canmore held up to it in the first half, but by the second half, you could tell their O-line was getting worn down and that's when we took over."
The Wolverines concentrated on containing linebacker Thane Buckingham and defensive lineman Wyatt Thurston which freed up other defenders including Brett Andrus who had a Rebels'' high five tackles, and defensive end Tate Platt put consistent pressure on the quarterback on the way to four tackles. Bradley Marsden recorded an interception and both Hunter Utke and Kadin Reynolds got sacks.
"Getting some different guys on the stat sheet every week is great, as it tells me that everyone is contributing," said Jensen.
Hughes was happy to see how his team responded to that adversity with the turnovers along with some second and longs on offence as the squad looks to continue building going forward and peaking at the right time for playoffs.
The Rebels now prepare for Fan Appreciation Night this Friday at 7 p.m., as the squad plays its first divisional game against Pincher Creek Mustangs at Ken McDonald Memorial Sports Park.
"We have film on them. From what we've seen, they run similar to what they have done in the past with three offensive looks," said Hughes. "If we play our game, I think it'll be a good contest if we play up to our potential."