Leth helping Seattle Thunderbirds fly
Posted on September 21, 2016 by Taber Times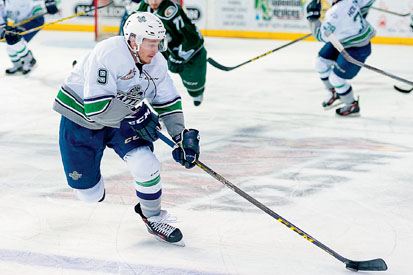 FORWARD PROGRESS: Former Taberite Cavin Leth is looking to bring a veteran presence to the Seattle Thunderbirds, in hopes of another deep WHL playoff run for the 2016/2017 season. TIMES PHOTO COURTESY OF BRIAN LIESSE/SEATTLE THUNDERBIRDS
By Greg Price
Taber Times
gprice@tabertimes.com
Former Taber Golden Suns standout Cavin Leth had a very memorable Western Hockey League season last year, as it fell just short of a Memorial Cup appearance with the Seattle Thunderbirds.
Leth was acquired from the Swift Current Broncos midway through the 2015/2016 WHL season, and the forward helped push the Thunderbirds to one of its most successful seasons in franchise history.
Along with recording the second most regular-season wins in franchise history, the Thunderbirds blew through its Western Conference competition, beating the Prince George Cougars, Everett Silvertips and defending WHL champs Kelowna Rockets, dropping only one game in the whole process.
The Thunderbirds would eventually get its wings clipped against the Brandon Wheat Kings in the WHL final, leading to high hopes for the upcoming WHL season.
"Your WHL career has a lot of ups and downs and I just want to contribute for this team. They traded for me, so they must think high of me. I want to be a good leader, playing a good 200-foot game," said the 20-year-old Leth. "For the team, it's a common goal where we got so close last year in the WHL finals that I think we want to get back there and make the bigger jump to the Memorial Cup."
Looking to get some more veteran leadership for that playoff push, Seattle Thunderbirds general manager Russ Farwell looked to the Swift Current Broncos for Leth.
"Cavin came in and did exactly what we needed. He was a real solid guy and did a little bit of everything. He killed penalties, he blocked shots, he's a fast skater so he was able to force the play," said Farwell. "We got exactly what we expected from the trade. He has been a solid part of our team."
The Thunderbirds have definitely had a busy offseason in restocking for that Memorial Cup goal with the acquisitions of defenceman Anthony Bishop (Saskatoon Blades), goalie Rylan Toth (Red Deer Rebels) and right winger Layne Bensmiller (Prince Albert Raiders).
"We were in the same spot where we were uncomfortable in our goaltending. We drafted a young goalie a couple of years ago, and he's going to be good, but we felt like we had to make a move to solidify that spot, and trades are a little less expensive when you make them earlier," said Farwell. "We made that move, and then we made the move with Prince Albert where I think iT's a pretty even deal — I think Bensmiller has a little more offence than he showed in Prince Albert. And we needed depth on defence and we got that in Bishop."
While most comfortable at his center position, Leth has shown the ability to play all three forward positions in his WHL career, and as an overage veteran, will fill any role the Thunderbirds desire of him. Leth has a goal and three assists this WHL preseason while recording a plus-2. In 35 regular-season games for the Thunderbirds last year, Leth had six goals, four assists and 31 penalty minutes. In 15 playoff games, Leth had three goals and six assists.
"I do bring depth. With over 100 games, I have a lot of experience in the league. From the first line to the fourth line, wherever they play me, it's a good role to fill and I can play wherever they need me. I just have to make sure I'm producing and playing my game," said Leth.
From peewee 'AA' to bantam 'AAA' to be drafted in the second round, 39th overall by the Swift Current Broncos in the 2011 WHL Bantam Draft, Leth has seen his game evolve.
"I've felt like I've elevated my game as I've grown and developed more as a whole player. Especially coming into the WHL, you have to round out your game and not just focus on one aspect," said Leth. "I've felt like I've become a solid 200-foot player. My game does have an edge to it, be it from making a big hit or even dropping the gloves and fighting. People know that from around the league too."
Leth sees his trade to the Thunderbirds this past season from Swift Current not only a blessing by going to a more competitive team, but also the culture he has found in Seattle as Leth has gone through the challenges of being a student athlete in his high school years until now.
"At a younger age, it's a lot harder to focus on both aspects. But this is a league that does take pride in your education because you are a student too. They have resources you can use to help you with your education," said Leth who is taking classes in criminal psychology in university this year, with an interest in law enforcement. "Anywhere you play hockey, you are going to be presented with challenges, it's how you overcome them as individuals or as a team that makes you stronger as a person and a better hockey player as well. I've been loving it here in Seattle. It's a little better than Canada in that there isn't as much snow, so it's nice. The rain gets to you a bit, other than that, they have treated me awesome here, from the fans to the staff and coaches and players. We are all clicking really well."
The Seattle Thunderbirds officially kick off its 2016/2017 WHL regular season this Saturday on the road against the Portland Winterhawks.
"I think we have definitely set ourselves up for a very good season. We have a lot of good veterans, leaders in the room, and young guys that have seen what it takes from us and we've pushed them to be better," said Leth. "I think we have a really good shot."
The wish list for Farwell in his acquisition for Leth going forward in the 2016/2017 WHL season is that he finds another gear in his offensive game.
"Hopefully he will consistently be an offensive contributor. Part of being a good offensive player is a mindset in always looking for opportunities. He's a really hard working player and he's a good guy to have on your team," said Farwell. "This year, as a 20-year-old, he has to come expecting more of himself offensively. I know that was the talk on Saturday (the Thunderbirds' last pre-season game), and he scored a real nice goal Saturday night. He was using his head and using his feet where he put it up in the top corner. I think he's able to give us a little more offence, and he's capable of that."