Taberites stepping into MMA ring
Posted on September 14, 2016 by Taber Times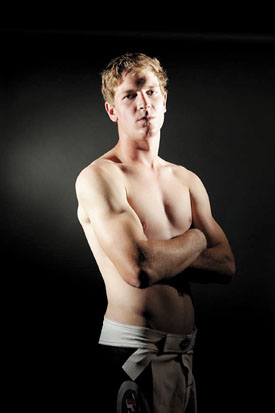 By Greg Price
Taber Times
gprice@tabertimes.com
Two Taberites are getting ready to tussle in their respective upcoming Mixed Martial Arts (MMA) fights.
Nick Badura is making the transition from his hockey days to MMA in his fight debut in Lethbridge.
"To tell you the truth, I wasn't into it (MMA) at all. But, when I stopped my hockey, I got bored and I was sitting around a lot. There was a local gym where I worked at, and they had a fight camp going on and I won a competition that got me to this fight," said Badura. "It was a three-month program, where you trained basically every day and the best fighter gets picked to fight in this competition."
That competition is King of the Cage and runs Sept. 23 in Lethbridge at the South Pavilion Park, with tickets available at the door.
"Once you start training and learning more about the sport, it sparks your interest a lot. It is physically demanding, and training yourself to get hit and being the one delivering the hit, it's more or less a high you get," said Badura. "At this point, I'd consider myself a more stand-up fighter more than anything. My jiu-jitsu is fine, but I'd rather go with the knock out."
It also more suits how Badura was as a hockey player, spending time last with the Taber midget "AA" Golden Suns program.
"Really, I was the guy on the team that was looked at to go out and do the dirty work," said Badura with a chuckle, adding once he gets off of work, he is studying a lot of film on MMA fights on national television and locally.
As Badura will be making his MMA debut, so will his opponent in Kurt White.
"He is about 15 years older than me, so he has life experience," said Badura, who has Brad Wall working in his corner. "If things go well, I'll keep on smiling and try and get more fights. I'll try and stay calm, keep a smile on my face and try and intimidate him. I don't know what's going to happen, but I hope I come home with the win."
The last time Brendan 'Hacksaw' Blacquier stepped into an MMA ring was May of 2012, finishing with an MMA record of 4-2 with his last match being a win. Of his four wins, three were by KO/TKO and won by decision. Both of Blacquier's losses were by submission.
Now, a simple bet from a friend has him stepping into the octagon, finally succumbing from the hopes of his peers to get back in the ring.
"I started training up here again (Sherwood Park), and I kept saying 'No, no, no, I'm not going to figh', and then finally I said 'Let's go'," said Blacquier who years ago got a solid job and couldn't put in the necessary training hours needed to take the physical sport of MMA fighting with the care it needed. "Life got in the way and then five years passed."
Currently working for an oilpatch company out of Sherwood Park, working out at an UFC gym along with taking up hockey again in a men's league, one of Blacquier's old training partners ended up moving to the area as well.
"I made a bet with one of the guy's in the gym that if he won his next three fights, I'd come out of retirement. Needless to say, he won his next three fights. He won three quick ones, boom, boom, boom," said Blacquier. "I said 'I guess I better start suiting up'."
Blacquier will be suiting up at Unified 28 in Edmonton on Sept. 30, and is also scheduled to fight on a card in Lethbridge in November.
"Even with the hiatus, I've always kept my nose in the sport, watching fights in the local scene, supporting the local scene," said Blacquier. "At first I was just training (for MMA) to keep in shape (in Lethbridge), but then when I did my first fight, I got hooked."
Blacquier (4-2) will be facing fighter Justin Nanaquawetung (3-4) in which the book on him is he likes to stay on his feet, throwing heavy bombs.
"I think I'll look to get him down to the mat and finish it early," said Blacquier. "I'm also super excited to come down and fight in Lethbridge again. It's a big fight town. The support has always been so amazing. Everyone came out and showed some love in Taber and Lethbridge. That motivates a guy to get back in the ring again and put a show on for everybody."