Rebels take bite out of Bulldogs
Posted on September 14, 2016 by Taber Times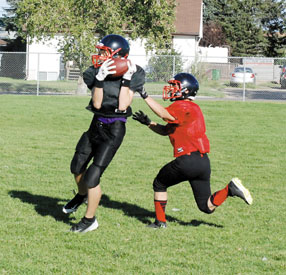 CATCH ME IF YOU CAN: W.R. Myers Rebels receiver Tylor Kornelsen hauls in a pass on defensive back Jaxon Shimbashi during a practice last week for the high school football team at W.R. Myers Field. TIMES PHOTO BY GREG PRICE
By Greg Price
Taber Times
gprice@tabertimes.com
W.R. Myers Rebels' running back Evan Harkness ran wild in a dominating 47-14 win over the Winston Churchill Bulldogs at the University of Lethbridge field on Friday night.
Harkness would rumble for three touchdowns to go with 247 yards rushing — in a partial game.
"He got all three of his scores in the first quarter. We blew the doors open and then shut him down later in the game," said Adam Hughes, head coach of the W.R. Myers Rebels football team in protecting Harkness from unnecessary injury in a game that was well in hand early. "We started spreading around the ball after that. The system they run, they try and contain everything up with really wide ends, so we are able to run off tackle all game. Our blocking on the offensive line was really fantastic, they opened up a lot of different holes."
A helpful byproduct of the game was experimenting with players at different positions to improve depth to a team that still a little light on overall numbers.
"We were able to move guys around. We don't have a lot of players. Lots of players get lots of playing time, but we were able to move them around to different positions," said Hughes, adding that shifting around allowed for Jaxon Shimbashi to run for over 50 yards and a touchdown.
Corny Froese nearly took the ball to the house with a 60-yard kick-off return.
"Lots of people got a chance to make plays," said Hughes, adding defensively, 14 different players made tackles.
Linebacker Thane Buckingham led the Rebels with six tackles and defensive lineman Wyatt Thurston had five tackles and a quarterback sack. Safety Bradley Marsden had two interceptions, one which was a pick six, aided by a bone-rattling comeback block by halfback Colton Weinberger who would also record an interception.
"It's that kind of defensive hard work and synergy that's going to help us cause some long nights for opponents going forward," said Jason Jensen, defensive co-ordinator for the W.R. Myers Rebels football team. "It was the first time we faced a conventional offence, and we noticed a few things we have to tighten up. But that's to be expected. Any time you can hold a higher tier team to only two scores, it's a good feeling. We were able to get into the backfield and get into the quarterback's face a lot which helped cause turnovers."
The Rebels now play Canmore in a game that has been rescheduled for Taber, as the squad squares off at Ken McDonald Memorial Sports Park at 2 p.m. on Saturday. The team then has its Fan Appreciation Night the following week at home on Sept. 23 at 7 p.m. against Pincher Creek.