Police soccer tourney extremely competitive
Posted on September 14, 2016 by Taber Times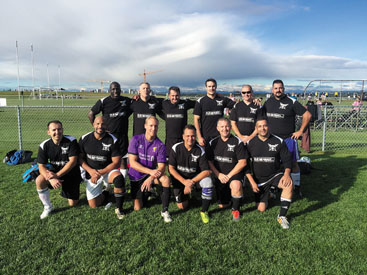 POLICE ACADEMY: Three Taber Police Service members participated on a team in the North American Police Soccer Tournament in Calgary this past week. TIMES PHOTO SUBMITTED
By Greg Price
Taber Times
gprice@tabertimes.com
Three Taber Police Service officers participated in the North American Police Soccer Tournament, and more than showed they belonged in their team's competitive record.
It was the first time for Police Chief Graham Abela to compete in the event which was held in Calgary in 2016, in which he came away thoroughly impressed.
"The tournament and the organizing committee was first class. The facility was second-to-none," said Abela. "It was a little intimidating at first, given we pulled together a group of officers who had never played together as a team, and we walked up to teams that had full matching uniforms with names on the back of their shirts, teams you could tell had played together for a long time with the Torontos, Vancouvers and Edmontons of the world. But within five minutes of the games starting, I knew we were going to be competitive in relation to how we were playing and the level of play."
The team made up of officers from Alberta and Ontario police forces competed in the Men's Open Recreational Division. Abela (defence) was joined by Taber Police Service Constables Dave Gyepesi (striker) and Jason Vowles (defence).
"That means any age can play, and I can tell you I was one of the oldest guys out there. Everyone else looked pretty young," said Abela.
The team ended up its pool play at 2-2, and in the playoffs they lost a tight match to Edmonton 2-0, with the score being 0-0 with four minutes left to play. Results from pool play included a 2-0 win over Calgary, a 2-1 loss to Edmonton, a 1-0 loss to Toronto and a 2-1 win over San Francisco.
"We lost that semifinal game, but had we won, we would have been playing for gold. One of the teams that played in that final was San Francisco which we beat," said Abela. "It was really even. I thought there would be teams that blew other teams out of the water, but that didn't happen."
It was a very busy week of soccer at the North American Police Soccer Tournament with mens open, mens recreation, mens masters, womens open, womens recreation womens masters divisions battling for their respective title.
"With that many games being played, there were injuries, but mostly mainly minor. We did have someone tear their MCL. The rest of us just had blisters or soreness, but they had massage and physio-therapists on site. It was first class," said Abela. "On Thursday, we ended up playing three games. In the Masters division, the Alberta team had some players get injured and they were short. Dave, Jason, and I ended up playing at 8 a.m., 11 a.m. and 1:30 p.m. It was brutal. All I can tell you is the hot tub at the hotel served us well. We needed it," continued Abela with a chuckle.