Hansens have brush with golf greatness
Posted on September 14, 2016 by Taber Times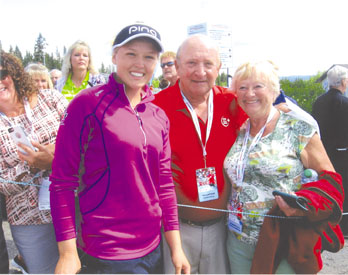 WEDDING GIFT: Les and Robbie Hansen got to spend their 50th wedding anniversary doing something they love, watching the LPGA tour where they got to form a bond with Canadian golf sensation Brooke Henderson. TIMES PHOTO SUBMITTED
By Greg Price
Taber Times
gprice@tabertimes.com
Ambassadors of women's golf as avid followers of the LPGA tour, Les and Robbie Hansen have formed a bit of a bond with the face of Canadian women's golf in Brooke Henderson thanks to their wedding anniversary.
The couple spend their winters in Florida and for the last seven years, Les has served as a volunteer on the Symetra Tour in Lake Willis. The Symetra Tour, previously known as the LPGA Futures Tour, is the official developmental golf tour of the LPGA Tour.
"The top 10 from that tour every year qualify for the LPGA," said Les.
There is where the Hansens first met Brooke and her sister Brittany, who were playing in the tournament, and became instant fans.
"I've seen Tiger Woods play in the early 2000s in Orlando and saw the crowds that followed him around the golf course. Brooke Henderson, unbeknownst to many Canadians, has the same following," said Les. "At the Canadian CP Women's Open a few weeks ago at Priddis Greens, there were crowds that were literally thousands of people following her and I didn't see any of that in the media. Somehow, we just don't embrace the ladies tour."
A year-and-a-half ago, the couple had planned a trip to Europe for their 50th wedding anniversary. But terrorist attacks in Paris (November 2015) and Belgium (March 2016) dissuaded them from taking that path.
"As old people, we kind of chickened out, having never been to Europe before. At that point, we didn't know this CP Open was going to be in Calgary as the same time as our anniversary," said Les.
Having met Henderson earlier at the Symetra Tour, the couple wrote a letter to her, hoping they could meet again as a special way to celebrate their Golden 50th wedding anniversary, along with posing for a picture together.
Not hearing anything back at the time, Les and Robbie went to the tournament where Les also served as a helper at the volunteer centre. On the Wednesday of the tournament, there was a pro-am round, and went over to the first tee box to see Brooke tee off.
"I was going to follow for around nine holes and I had seen this lady sitting on a bench on the second hole and she smiled at me and I smiled back and we carried on our way," said Robbie. "Half way through the round I sat down on a bench and she came and joined me and we got talking and it ended up being Brooke's mom (Darlene). We got to talking and she recognized the name Hansen, saying 'I think we got a letter from a Hansen', and I said that was us. We walked together for the last three or four holes, and she said, 'I'll make sure you get that picture'."
Waiting at Autograph Alley, Henderson was of course a golfer that was in extremely high demand. Henderson currently ranks third in the Rolex Women's World Golf Rankings as a fresh-faced 19-year-old, having just turned 19 this past Saturday. Henderson was named the Canadian Press Female Athlete of the Year for 2015. She won her first major at age 18 in June at the KPMG Women's PGA Championship, becoming the event's youngest winner. In 2015, she earned lofty fifth-place finishes in both the U.S. Women's Open and Women's PGA Championship. With 11 top 10 finishes to her credit, Henderson has earned $1.35 million in 2016 alone.
"It was totally packed. Her mom came around form the 18th hole and noticed us. We got to meet her husband and she made sure the picture got done because if the media decides it's time to go, it's time to go, whether there is a million people standing there or not," said Robbie, as the couple would eventually get their wedding gift from Henderson with the group picture, which they are eventually planning on getting autographed.
"It was kind of fun visiting. Beyond just getting the photograph, we did have a chance to talk to the mom and we learned some interesting things," added Les.
Henderson was a representative of Canada at the 2016 Rio Summer Olympics where she would eventually finish in seventh. Flying to Toronto on the early Monday morning after the Olympics and just prior to the Canadian CP Women's Open, she then jumped a flight on another flight the say day to Calgary.
"Her luggage wasn't there and the last piece didn't get there until the Wednesday. As a (retired) teacher, principal, I can appreciate how an 18-year-old girl, who is the same age as kids who just graduated from high school last June, handles this type of stress and pressure," said Les. "It's phenomenal the amount of travel these athletes have to do, and as an 18-year-old, I was impressed with how she was put together mentally of what must of been on her mind and psyche as she was rushing to get her practice rounds in. And people like us who put a demand on her time, and she still has a smile on her face. In my mind, she is one of the current sports heroes in Canada. She is a wonderful ambassador for golf."
The Hansens are quite personal with the players they meet in Florida every year because they can be as Les noted, it seems like the female athletes are more approachable than their male counterparts on the links.
"We've watched both the senior men's PGA tour guys with Lee Trevino and Chi Chi Rodriguez and all those guys along with Arnold Palmer. Often times, I find those guys are not very approachable. They are spoiled millionaires to some extent, that being said, Palmer was very accommodating for the fans, but some definitely are not," said Les, who has also been fortunate enough to attend The Masters a couple of times with his son. "I find with the ladies, they make a point of signing autographs and spending time with fans. Particularly what I like is they talk to the young women. A little girl wanting autographs, girls five to 15 years old girls, they never leave until they are done signing autographs. They really care about their fans."
Living at Fairway Village near the Taber Golf Club for the last few years and having a brother in Taber, Les is still an avid golfer, playing with several of his fellow seniors.
"We had visited Taber on a number of occasions before visiting my brother and we've always enjoyed the town. We have really been welcomed to our little (golf) community," said Les.