Mennonite league raises funds for charities
Posted on September 7, 2016 by Taber Times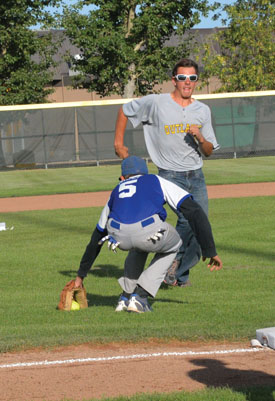 GAME ON: Willy Klassen hurries to grab the ball as Jacob Wolf races to be safe on third base, during the Mennonite Slo-Pitch League All-Star games in August at Jets Stadium in Vauxhall. TIMES PHOTO BY NIKKI JAMIESON
By Greg Price
Taber Times
gprice@tabertimes.com
The second annual Mennonite Slo-Pitch League all-star games proved just as much of a success as the first one, in its spirit of giving and with spreading awareness.
"It went very well. I wasn't exactly sure the kind of response we would get for raising food for the local food bank. But I parked my truck inside the stadium parking lot there and we filled up the box with a layer of food," said Frank Klassen, organizer of the all-star games that went at Jets Stadium in Vauxhall in late August.
"And it was pretty special for the players. A lot of them had never played under the lights before."
The event also managed to raise money for the Prairie Gleaners in Medicine Hat, through concession sales where food and drink were donated along with silver-donation entry fees.
Prairie Gleaners is a non-profit registered charity, existing to support Christian missions and aid organizations in the world.
Ever aware of the overabundance of resources within the nation of Canada, the Prairie Gleaners Society exists to help support resource poor communities through the processing and packaging of food, materials and supplies that have been gleaned.
Working in partnership with established mission and aid organizations, the produce and materials will be transported to different parts of the world, as well as within Canada, and distributed by established relief and development programs for the homeless and hungry.
"That went really well too, where we had around $3,700 raised," said Klassen. "There were not very many empty seats in there (at Jets Stadium)."
For Mennonite and non-Mennonite people alike, the charity event also got to showcase how much the league has grown in popularity.
A league that featured 16 teams last year, has grown to 24 this year with a huge youth improvement.
As other slo-pitch team leagues across southern Alberta struggle to field a healthy number of teams, the Mennonite league continues to grow.
"A big part of it is the young people we are bringing in. Of the new teams coming in, one team was made of all adults, while the others were pretty much all youth with adult coaches and leaders," said Klassen. "I can't believe how the league is growing, and it's heading in the right direction because of young people coming in for continued growth."
Teams in the Mennonite Slo-Pitch League compete on ball fields mainly in Enchant and Bow Island.
The league has rotating schedules of four divisions, playing every third Sunday.