Mennonite league showcased at Jets Stadium
Posted on August 31, 2016 by Taber Times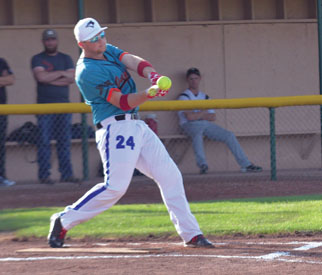 TIMES FILE PHOTO
By Greg Price
Taber Times
gprice@tabertimes.com
Earlier this month, the Mennonite Slo-Pitch League showcased its talent through three all-star games at Jets Stadium in Vauxhall, all while raising funds and food for a good cause.
Last year's installment proved a big success as entry to the games was by donation along with various church organizations donating, where approximately $10,000 was raised for a cause in Guatemala, but this time around it supported more local causes, including the Vauxhall-area food bank.
"We (featured) three games with different age groups, teenagers, 20-plus and 30-plus," said Frank Klassen, organizer of the all-star games. "Playing in our league, our players have never got a chance to have that feel of playing under the lights, so it's pretty special for them."
What has been special is how much the Mennonite Slo-Pitch League has grown. A league that had featured 16 teams last year, has grown to 24 teams this year.
"Seven of the eight new teams are youth, around that 13 to 20 years old range, although there is always a leader on each team that is an adult," said Klassen.
Klassen added the Mennonite Slo-Pitch League has been a positive influence on the culture as teams compete on ball fields mainly in Enchant and Bow Island with rotating schedules of four divisions, playing on every third Sunday.
"For myself, I grew up playing the game. It's a great way to play sport instead of getting in trouble at parties with huge gatherings on Sundays, where alcohol can be involved," said Klassen. "The youth love it and it's a great alternative to the parties where youth are hiding away from their parents, doing something they probably shouldn't be doing. They want their parents around, they encourage it, so they can watch them play. This is a place where everyone can come together for something positive."
That included the all-star games where entry for spectators was a non-perishable food item or monetary donation to the Vauxhall Food Bank. There was also a concession where the food and beverage was donated. Money raised from concession sales will go towards Prairie Gleaners in Medicine Hat.
It is a non-profit registered charity, existing to support Christian missions and aid organizations in the world. Ever aware of the overabundance of resources within the nation of Canada, the Prairie Gleaners Society helps support resource poor communities through the processing and packaging of food, materials and supplies that have been gleaned.
Working in partnership with established missions and aid organizations, the produce and materials will be transported to different parts of the world, as well as within Canada, and distributed by established relief and development programs for the homeless and hungry.
"I know it's the thought of some people that we (Mennonites) do not contribute enough with our fair share in our communities. This is a way to give back, while enjoying family and sport."