Myers football getting ready to roll
Posted on August 24, 2016 by Taber Times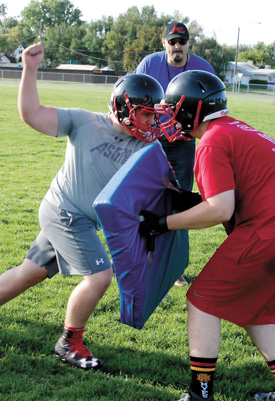 DRILL SERGEANT: W.R. Myers Rebels defensive co-ordinator Jason Jensen oversees a rip/swim drill by Ashton Werewka (left) during W.R. Myers Rebels football team pre-season camp. Times photo by Greg Price.
By Greg Price
Taber Times
gprice@tabertimes.com
As the seasons get ready to change from summer to fall so to do the thoughts of fancy-free student athletes who begin to focus on the gridiron.
W.R. Myers Rebels football team's pre-season camp concludes today with a sense of optimism for head coach Adam Hughes.
"This is a year we are going to be able to take some big steps forward," said Adam Hughes, head coach of the W.R. Myers Rebels football team.
"Last year we introduced a new offence, and I think from a coaching and player standpoint, we really know what we have and how to use that offence effectively. I haven't been this excited for a football year in a long time."
Numbers have been hovering around 20 who have been attending the pre-season camp on a regular basis, with 26 players officially registered as of today, although Hughes hopes as always there will be some late stragglers that filter in as the calendar turns to September.
"I'm hoping for a few late registrations and we can get up to 30, that's the hope," said Hughes, adding Quintin Cheverie and Jason Jensen will be returning as offensive and defensive co-ordinators on the staff.
Hughes is happy to see the infusion of speed with his Grade 10 athletes coming from a bantam program that saw the highest scoring team in SAMFA during the regular season.
"There are some special athletes there that also played on the Summer Games team. The Grade 10 crop is very strong and will be a nice compliment to our veterans," said Hughes. "I think you are always evolving offensively and defensively. We will have the same base as last year, but add to it. There are things we did last year that we don't think will work this year just because we have different players. Things change, but everything will be based on our team speed this year which is really good."
No jamborees are planned for 2016, prior to the start of the regular season which will start for the Rebels on the road Sept. 2 against Drumheller. The Rebels will have a change of pace from last season in which the squad will be road warriors in the first half, only having one home game in all of September at Ken McDonald Memorial Sports Park, on Sept. 23 against Pincher Creek.
"But in October, we will have a a game every week at home. The game in Drumheller is a long trip and Calgary can be pretty grueling, but then we have short trips to Lethbridge which is not too bad," said Hughes. "But, it's easier doing road trips earlier in the season because the grind of a long season hasn't hit you yet."
However the season unfolds for the Rebels, Hughes is pleased to see how his players are already in game-mode with the way they are taking practices.
"We have 26 players which isn't a huge number, but they are all seasoned football players that are ready to go," said Hughes. "Often, especially among the younger players, they don't seem ready to go in which they need a year to get their feet under them. This year, the Grade 10s are ready to hit the field and contribute. We don't have the depth, but every player we have is going to be able to contribute."
The 2015 football season proved a tough one for the Rebels as the losses mounted, although some featured tight scores where that one break did not seem to go the Rebels' way. Hughes and the rest of the coaching staff is looking at a clean slate with wins being more plentiful for 2016.
"We definitely had the short end of the stick last year luck wise. We had a few heart-breaking games. But, I know we will have better results this year," said Hughes.
The Rebels are on the road Sept. 2 against Drumheller. The team's first home game is Sept. 23 against Pincher Creek at 7 p.m. at Ken McDonald Memorial Sports Park.