Gouw takes boys title
Posted on August 24, 2016 by Taber Times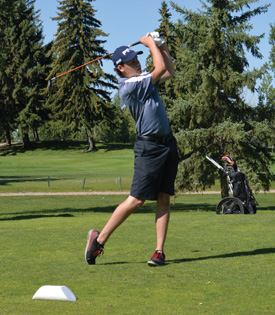 TIMES FILE PHOTO
By Greg Price
Taber Times
gprice@tabertimes.com
Mother Nature forced the boys club championship at the Taber Golf Club to be a one-round, winner take-all proposition, in which Linden Gouw emerged victorious as the dust settled.
"It was really close up until the last two holes. On No. 7, I got a birdie to take a one-shot lead, and then I would end up winning by three shots," said Gouw who would eventually card an 80.
"Me and Ace Wenbourne were tied going into the last nine holes and Andrew Makarchuk was one behind us."
With the top of the field starting the round on the back nine which is the harder of the two, it took awhile for Gouw to find his groove.
"I was just wanting to get something good coming off the back nine, knowing I'd be heading into the front nine. On the back I was playing bogey golf up until the 16th hole and then I got seven straight pars after that and settled down," said Gouw, adding at one point, both Wenbourne and Makarchuk were three strokes ahead of Gouw during the round.
"It took me awhile to get into it. In the end, my driving and putting helped me."
Gouw referred to his two putts on No. 7 and No. 8 as 'really lucky' that helped seal the win coming home.
"I birdied No. 7 where it spun around the hole and dropped. And then I had a big par putt from the fringe on No. 8," said Gouw, adding he earned a second-place finish in last year's boys club championship.
"It was just fun and nice not to screw up on the last few holes."