Versteeg embarking on new journey
Posted on August 17, 2016 by Taber Times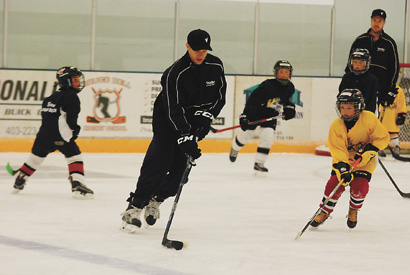 Times photo by Greg Price
By Greg Price
Taber Times
gprice@tabertimes.com
Southern Albertan Kris Versteeg is ready to embark on a new chapter in his hockey career.
Versteeg was on hand once again this past week to help run his annual Ver-Set Skills Camp at the Taber Arena along with fellow owners Devin Setoguchi and Rich Wiest.
Being the last year for the camp in Taber under the current contract, negotiations are in the works to extend the camp's stay in Taber just as Versteeg has negotiated a new type of deal for his hockey career.
In late July, the former NHLer has agreed to a one-year contract with SC Bern of the Swiss NLA.
"First and foremost, it's an exciting opportunity to go somewhere new and try something different. Obviously there's a lot of different aspects that come into it with financials and everything," said Versteeg. "Everyone's dream and everyone's goal is to stay in the NHL, I would have liked to, but at the same time I have to make the best decision for myself and for my family and this just seemed like a better opportunity for me at the time. I have to think of my family before I think of myself."
Versteeg has a burgeoning young family to account for that includes his 14-month-old son Jaxson and another on the way that is due in mere days in Maddox with his wife Brittany.
Versteeg confirmed he had a couple of offers from NHL clubs, but given the financial realities with the NHL tax system, escrow, agent fees etc., playing with SC Bern looked like the best thing to do for the 2016-2017 hockey season, while still very much leaving the window open for an NHL return for the 30-year-old.
While traveling overseas, Versteeg did his homework on how the transition will be, conferring with fellow camp owner Devin Setoguchi who played the 2015-2016 season for HC Davos, and his former Chicago Blackhawks teammate Andrew Ebbett, who signed a two-year contract with SC Bern back in June 2015.
"I talked a lot with Devin who played there and he loved his time there. It's exciting to have some familiar faces who know what it's all about and love the hockey and love the lifestyle," said Versteeg. "It was a big help in helping me make the decision in what to do."
A student of the game, Versteeg added he has watched plenty of film on the game last season in the Swiss League, to see its style of play.
"It's fast. It's really fast, up and down hockey with the big ice surface, so you'll have more space with the puck," said Versteeg of the Swiss League which also has the added bonus of not being as big of a grind in its shorter season and less travel for a player who has had to endure four major surgeries in his NHL career. "It's a new opportunity and a new way to play the game."
Versteeg is going to a solid team in SC Bern which won the league championship this past season. It is a winning tradition that Versteeg was accustomed to with an impressive NHL resume.
Playing for seven different NHL teams or their affiliates, Versteeg got to drink from Lord Stanley's Cup in 2010 and 2015 with the Chicago Blackhawks. It is a feat only approximately 15 per cent of current or former NHLers in the history of the league can attest to according to some research by hockey reference.com.
Versteeg was nominated for Calder Memorial Trophy consideration along with other prominent NHLers Bobby Ryan and goaltender Steve Mason in the 2008/2009 NHL season, in which he recorded 22 goals and 31 assists in 78 games for the Blackhawks.
Playing for Boston Bruins, Chicago Blackhawks, Toronto Maple Leafs, Philadelphia Flyers, Florida Panthers, Carolina Hurricanes and Los Angeles Kings organizations, wherever Versteeg went, more often than not, you would see a marked improvement in the team in that given season for the coveted player.
"I will be going to SC Bern wanting to win. That is something I've always prided myself on is everywhere I've gone I've tried to win. Even playing for Carolina last year, we were in the playoff mix late in the season. Going to Florida, the team hadn't made the playoffs in 10 or 11 years, then we went to the playoffs that year and lost in double overtime in Game 7," said Versteeg.
"It's been exciting going to teams that maybe didn't do too well the year before and try and get them into the playoffs. Or going to good teams that were in the playoffs and trying to win the Stanley Cup. Some people might think what I bring to a team is cockiness, but I think it's a confidence. It's something you need to win. The best players in the world have it, and the players who play in the biggest moments have it."
Often a player being traded so much can be seen as a bad sign in a young career, but in the business model of the current salary-capped NHL, the moves were often to strengthen an existing Stanley Cup run with Versteeg seen as a vital cog, or simply a casualty of the salary cap of teams that found themselves right pressed up against the ceiling.
"Everything I've done playing past one game in the NHL has been pretty much gravy to me. Growing up where I did, the goal was always to play in the NHL, but never really knowing that was going to happen," said Versteeg. "It's been amazing, especially at the time in my life when I was 19 years old and a pretty confused individual. To come from there, and within three years winning a Stanley Cup, being up for Rookie of the Year consideration, and having some things go my way, I have been blessed."
Those blessings include getting to meet many different players in the numerous NHL franchises Versteeg has played for, forging many lifelong friendships along the way.
"I've made a lot of new friends and I think that has always been one of my strong suits, is going into a room and being able to be friends with anybody. I love to get to know people, I love to know what their likes are and dislikes, and have fun with them," said Versteeg whose laid back and friendly demeanor has given him published reports of enjoying singing in public during his Stanley Cup heydays with the Blackhawks parades. "It's something where I made so many great friendships and I literally owe everything I have to the game of hockey and the fans."
Versteeg admitted it was tough at times being traded so many times psychologically, but that was quickly erased given the welcoming nature of his new team which often saw an improvement with Versteeg on the roster.
"You get that feeling deep down where it's tough to leave a team, feeling like you are not wanted, and then you go to a team and feel wanted," said Versteeg. "But it is the way the world works in hockey nowadays with the salary cap. Shea Weber got traded, the best D-man in the entire league, it can happen to anybody. It is amazing to see the way the cap works in today's game and you have to be ready to be moved. You can't get too comfortable. I got a chance to play with so many great players —three different Norris Trophy winners, three different Conn Smythe winners, Hart Trophy winners, just to be a little part of their careers and know that I helped out with that in a small way is amazing."