Peters powers his way to compete against baseball's best
Posted on August 17, 2016 by Taber Times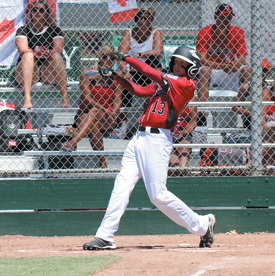 Times photo submitted
By Trevor Busch
Taber Times
tbusch@tabertimes.com
Taberite Brayden Peters recently returned from the Little League Intermediate 50/70 World Series where he competed as a member of Team Canada.
Hosted at Max Baer Park in Livermore, Calif. from July 31-Aug. 7, Canada finished out the series with a 2-2 record. Team West (Hawaii) would go on to win the series with a 5-1 victory over Team Asia-Pacific on Aug. 7.
"We were underdogs at the tournament, and no one expected us go in and win," said Peters. "We proved that we can play with the best teams in the world. With Puerto Rico and Curacao, we gave them a run for their money and pushed."
Peters plays with the Lethbridge Giants, which recently secured the Little League Intermediate Canadian Championship to advance to the Little League Intermediate 50/70 World Series earlier this month.
The Little League Intermediate 50/70 World Series was inaugurated in 2013. The "50/70" in the title refers to the dimensions of the playing field, with the pitching mound 50 feet from home plate, and the base paths 70 feet apart. This differentiates the series from traditional Little League (pitching mound 46 feet from home plate, base paths 60 feet apart) and the standard dimensions of more advanced leagues (pitching mound 60.5 feet from home plate, base paths 90 feet apart).
The Little League 50/70 Intermediate World Series has only ten regions, plus a host team. The regional champions are divided into Pool A (U.S.) and Pool B (International). The teams advance to the semi-finals via a modified double elimination format; the semifinal and final are single elimination. Teams that lose their first two games face off in classification games.
Canada would drop their tournament opener 6-4 on July 31 after a hard-fought game against Puerto Rico.
"Our first game against Puerto Rico we lost 6-4, and we thought we could have won that one," said coach Matt Kabayama. "But there was a little bit of jitters with the boys, we fell behind early and couldn't quite make up the ground."
The team improved for a 10-4 win over Team Europe-Africa on Aug. 2 in an elimination game, scoring runs in six different innings led by Peters, who went 2-3 with a double and a home run, and Ty Weavers, who went 4-4 with two runs scored.
"Myself, I got the bat on the ball, made every play that I could, and just tried to help the team win," said Peters.
On Aug. 3, Team Canada suffered a close 10-7 loss to Team Latin America in Game 3 of their tournament play.
"The other game that we lost, we had a couple early on, didn't take care of the ball and got behind the 8-ball again," said Kabayama. "We fought our way back, but came up short."
Team Canada would finish out the series with a 6-5 win over Team Southwest on Aug. 4. Kabayama was satisfied with the team's play over the tournament, which saw Team Canada achieve an impressive record.
"If you look into the past, and you see what Team Canada has done here, we're the first team to actually hit a 2-2 record. So that's a positive. In those two games that we lost, we felt that we were always right there, and we competed. Under different circumstances, we could have come out with a win there, but that's the way it is, that's sports. But overall, very positive. It was a great experience for our kids, and they played hard."
Kabayama also singled out Peters for individual praise as a key component of the team and contributor to their success.
"Brayden had a good tournament. He hit well, he defended, he played catcher for us. I think he got our first home run of the tournament, I think that's a pretty big highlight for him and for our team. The biggest thing is he's a good kid, he had fun — there's lots of positive things to say about Brayden. I've known him from hockey, and this is his first year with this group. He's a good ball player, but he's an even better kid. That's saying a lot. I have a lot of respect for him."
As for what's next for 14-year-old Peters, he doesn't rule out playing baseball at a more advanced level in future if he gets the opportunity to move forward.
"It was just a whirlwind experience. We were in Calgary for the Canadians, and then we had one day to pack, and then we were on a plane to California. And then when you're down there, you're playing the best teams in the world, and you're in the top 11 in the world. If I get an opportunity to play high level baseball, I'll do that. If I don't, there's hockey I play too still."