Spurs end season at State tournament
Posted on August 10, 2016 by Taber Times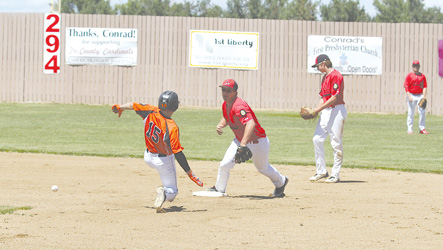 Times photo submitted by Barb Stratman, The Independent Observer
By Trevor Busch
Taber Times
tbusch@tabertimes.com
The Vauxhall Spurs finished out their 2016 season with a respectable 30-11 record, but was only able to secure a single victory during American Legion State Tournament play July 28-30 in Great Falls, Mont.
"We ended up losing out in the third round," said Spurs head coach Joel Blake. "The first game we beat the Belgrade Bandits in a tight ball game. Jalen Lane threw his ass off. He's been our bulldog all year, and he came out and had an absolutely unreal performance, complete game. We ended up winning 4-3."
Suffering an 11-6 loss in their follow-up on July 29 versus a tough competitor in the Bitterroot Red Sox, Blake praised the team effort of the Spurs during the game.
"The last two games we had two of the better teams in the tournament. We had the Bitteroot Red Sox. I coach at the academy in Vauxhall, and they actually beat the academy (VAB Jets) this year as well. We started Blaise Unruh — he threw a hell of a game. We ended up losing that one. I believe it was a tie game in the 7th, but we ended up dropping it in the 9th. It was a good ball game, the boys battled."
Close to securing a win in their final game on July 30 versus the Laurel Dodgers with the lead heading into the late innings, the Spurs were unable to defend against the Dodgers' onslaught and ended up dropping the game in a 9-6 loss.
"The third game we had Laurel, another solid ball club. We actually had the lead going into the 8th and couldn't hold it, and we ended up losing, and that was the end of year. But we're real proud of the boys and how they fought, especially down the stretch and the districts, and the State tournament. I was proud of them."
Blake was impressed by the Spurs' performance at State, as opposed to some previous years where a degree of overall effort may have been lacking.
"As a whole, I was a lot happier with this year's performance at State rather than the last couple. The last couple we kind of went down, didn't play our best baseball, and got embarrassed a little bit. This year we fought."
Describing the team's season as a up and down affair throughout much of the summer, Blake expressed pride in the players' grit and determination.
"Individually, definitely I've seen progression, with all 15 players. Especially some of our younger guys. We had one guy that was a little bit new to the game, and they all came a long way. It was a roller-coaster year, we were up and down. I thought we maybe should have taken care of some games that we didn't throughout the year, but it's young kids and it's hard to get them to compete and show up every day," said Blake.
"But we did a good job. We ended the year 30-11, up and down during the regular season, but where it mattered, districts and State tourament, we took care of business. We're proud of how the kids fought."