Taberite Oiler looks back
Posted on August 3, 2016 by Taber Times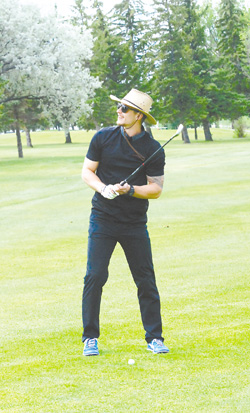 Times photo by Greg Price
By Greg Price
Taber Times
gprice@tabertimes.com
It has been an offseason of reflection for Taberite and Edmonton Oilers defenceman Brandon Davidson, in what has been one of the more interesting and feel-good stories of the 2015-2016 NHL season.
Going from a longshot to making the Oilers opening-day roster to becoming one of its most consistent D-men that was rewarded with a two-year extension, Davidson is certainly not sitting on his laurels.
Davidson ranked well down the depth chart entering training camp, but beat the odds by making the club ahead of higher-profile guys like Niki Nikitin and, initially, Darnell Nurse. Originally the eighth guy in an eight-man D-corps, he played just one of the first eight games before gradually working his way into the line-up in a third-pairing role on his natural left side, beating out the likes of former captain Andrew Ference and higher-profile rookie Griffin Reinhart for playing time. As the season wore on, the 24-year-old rookie gradually became an ever-more-important piece of the puzzle.
In his 51 games played before succumbing to a season-ending leg injury after a hit by Dustin Byfuglien, Davidson registered four goals, seven assists and a plus-7 rating which is huge considering the Oilers being buried in the bottom of the NHL standings, which as a team was a net -43 on the season. Grading out on the season, Davidson was seen as slightly above average on the offensive side and rock solid defensively, leading the team in numerous categories suppressing shots and chances.
Having to fight for minutes early on, those minutes were in abundance for the Taberite later on who would eventually average 19:11 minutes a game. During a one-month period starting in early February, Davidson exceeded 20 minutes in 15 of the 16 games, including four games over the 25-minute mark.
"That's something I definitely pride myself on. I've put in the work, I've put in the effort and the opportunity was there with the coaching staff to ease myself into it, and then apply more and more minutes with more and more responsibilities. It was just a fun year," said Davidson of his play that an Edmonton Oilers beat writer noted as 'calmness under fire and his capacity to consistently make the simple play were hallmarks of his game, whether a man down or at even strength'. "I never had a year that was so stressful, yet so rewarding at the same time. It was the most fun year of my life. I really want to make sure I come into this year and keeping going where I left off and keep improving. The coaching staff played me to my strengths and allowed me to succeed."
For the Edmonton Oilers heading into the 2015-2016 NHL season as with past recent years, the Oilers had been a team that looks good on paper at least from an offensive standpoint with the likes of Connor McDavid, Taylor Hall, Jordan Eberle, Ryan Nugent-Hopkins, Leon Draisaitl and Nail Yakupov.
Injuries to Jordan Eberle, Connor McDavid, Ryan Nugent-Hopkins and Oscar Klefbom helped dampen some of the enthusiasm, but it was unfortunately a lot of the same old, same old for the Oilers who would end up in 29th place and equaling a record of 10 consecutive years out of the playoffs.
The lineup needed a major shake up from the doldrums and the Oilers have done just that so far this off-season by hopefully getting the top-pairing puck-moving defenceman they desperately need in Adam Larsson in a trade involving Taylor Hall in late June. The Oilers provided some grit in helping protect wonder-kid McDavid in signing power forward Milan Lucic to a seven-year contract and had the gift of the big and skilled right winger Jesse Puljujarvi falling to them with the fourth overall pick of the 2016 NHL Entry Draft.
"I think we had a great draft even past the first round with some great players and we have some solid players coming in like Ethan Bear (defenceman, three-year entry level contract), we've added some toughness and size (Lucic, Patrick Maroon, Zack Kassian) which was a need that needed to be addressed in our division," said Davidson. "It's all great signs leading up to the season, it's an exciting time, especially with the new arena and new bodies coming in. It's finding the right players to slot in the right lines with the right pairings. The size we have now will allow us to use our skills more effectively. All eyes are on us and I think this year is going to be a different year than before."
That includes another year of maturity for the next 'Great One' in Connor McDavid, where not since Sidney Crosby has a rookie been so hyped. Speaking of Crosby, McDavid outscored Crosby in a point-per-game basis (although a smaller sample size) at 1.07 to 1.06 and if he had stayed healthy for a full season, was a threat for the Hart Trophy at age 18.
"Connor is the best hockey player in the world," said Davidson without a moment's hesitation. "There is no one that skates like him and moves like him on the ice. Once his hands catch up with how quick his feet are, it will be unbelievable. He is truly one of our leaders in the dressing room even at his age. He is very humble, a gentleman, a great leader in the dressing room and a great friend off the ice. He's definitely a player who is going to lead this team to greater things."
With the addition of a top-end talent like Larsson who was originally drafted fourth overall by the New Jersey Devils in his NHL draft year, there will be a juggling of pairings on the Oilers squad. Initial reports show Davidson will be lined up with Darnell Nurse in the third pairing. But with how 2015-2016 played out, anything can happen for the Taberite who was virtually in every single pairing among his 51 games played, including logging the second-most minutes on average among Oilers D-men on the penalty kill.
"Those are things that come up in the summer time that can change so easily. But seeing my style of play, that would be a good spot for me, but that's not saying that's where I'm going to be," said Davidson. "I played everywhere last year. That's just the way it works with injuries."
All the hard work has accounted for Davidson receiving a two-year contract extension shortly before he suffered his season-ending injury which involved a 144 per cent pay raise. Not too shabby for a player that had to make his way over the hurdles of being a throw-in 2010 sixth-round sweetener draft pick on the Lubo Visnovsky/Ryan Whitney trade, being bypassed in his draft year from the Alberta Midget Hockey League and became captain of a Regina Pats WHL team he had to walk on to make.
Oilers insiders have said Davidson is a defender who can be counted on to quiet the waters in his own end which is suggestive of being a meaningful piece going forward in the Oilers rebuild for a squad that is in dire need of a defensive presence to augment the skilled forwards.
"I've done a good job and made myself known, but that's just step one. I see other guys working hard in the summer time too who are looking for a job. I'm going to make sure I put in the hours and keep on moving forward. There's no time for me to relax, but this past season I do feel like I've arrived and am part of this. The City of Edmonton has welcomed me with open arms and the fans have been terrific," said Davidson. "It has really been a privilege and I hope to play for the team for a long time to come."
Davidson noted he is recovering nicely from his lower-body injury with no setbacks before training camp which is mid-September.
"After the season you like to have some down time and make sure you rest your body. It's a long grueling season. You usually take a month off and then you get back into the swing of things," said Davidson. "There's a lot of pressure to stay in the NHL, so you have to stay in shape, it's the standard now. I make sure I stay fit and I stay focused. I have one shot at this and when I eventually walk away from it, I want to know I gave it my all. One thing I was always taught was play with my heart. That's one thing my dad always told me and is something I tell the kids, play with your heart and the rest will take care of itself."
Davidson has confirmed he will be helping out with the Ver-Set Skills Camp once again at the Taber Arena which runs Aug. 7-13, giving back to the notion of summer hockey camps that helped Davidson become the player he is today.
"It's a really fun week. I remember skating in that camp when it was in Coaldale and under the Sutters. It's a great program where kids come back year after year," said Davidson. "As hockey players, it's a chance for us to give back to Taber where we are providing opportunities and creating a great atmosphere for kids to come and enjoy hockey. Anytime a professional athlete can use his power if you will to influence kids and people in a positive way, that's the goal and is a rewarding part of our jobs. It's a great opportunity for me to go back to Taber and see my family and friends, work with kids and see them grow."