Local Dutch basketball league champion retires
Posted on August 3, 2016 by Taber Times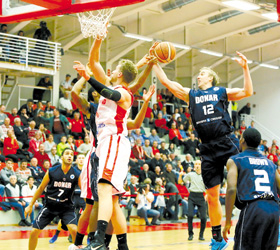 Times photo submitted
By Greg Price
Taber Times
gprice@tabertimes.com
Taberite Ross Bekkering has ridden into the sunset of his professional basketball career with another Dutch League championship.
Playing for Groningen Domar, Groningen had its sputtering moments early in the season before finding its stride to its championship playoff run.
"First half of the season we were doing OK, we weren't doing great. We made some personnel changes," said Bekkering. "By Christmas we had three players switched out, our starting point guard, one of our big men and one of our young talents, they all got switched out. Bringing in the new guys, by the second half of the season, we were firing on all cylinders and we ended up finishing in third in the regular season. But by the second half of the season, we were right up there with any team in the league."
That momentum carried over to the playoffs that featured a best-of-seven semi in Leiden that proved very tough, with Groningen eventually prevailing in six. The final proved much easier with Bekkering's team earning the championship four games to one against the league number-one seed (Zwolle).
"The changes we made in personnel made the team pretty selfless with no egos on the team. We played really well together with good chemistry and a well-balanced team that was tough to play against," said Bekkering. "I played inside the whole time, but my coach encouraged a very open style of play where I got to add a little more freedom than perhaps I had in previous years, like shooting from the outside."
It caps a six-year career in the Dutch League, that has seen Bekkering play for Leiden, Nijmegen and Groningen as the small-town Taberite was able to explore Europe in the prime of his life in his 20s.
"Being able to see different cultures and see how different countries lived, connecting with all the different communities out there, it definitely opens your eyes to different stuff," said Bekkering. "I've been pretty fortunate to be able to see different parts of the world."
In his six years in the Dutch League, Bekkering was able to win four championships (2011, 2013, 2014, 2016), two NBB Cups (2014, 2015) and two Dutch Supercups (2011, 2014), before officially announcing his retirement from the league in late June at the age of 28.
Bekkering's last season had him averaging 13.5 points and 10.5 rebounds a game as the Taberite was stuffing the scoresheet with double-doubles with regularity throughout his career in the Dutch League.
Bekkering's individual awards had him as the Dutch Basketball League rebounding leader this past season along with being Statistical Player of the Year and Eurobasket.com Player of the Year. Bickering was named twice to the All-Dutch Basketball League Team (2013, 2016) along with being an all-star in the league for five of his six seasons. He also was named to the Dutch Basketball League All-Defense team twice (2014, 2016).
As Ross looks to build a family life with his wife Carli who started her residency last month in Lethbridge as a medical practitioner, stepping away from the game had been on Bekkering's mind the last few years.
"Every year, I was keeping it in the back of my mind as a possibility. This year, by the end of the year, I knew it was time to stop. I told the management team I would give them a hard answer in two or three weeks because I went traveling with my wife (Europe, New York, Boston)," said Bekkering.
"Having that time to reflect, I knew it was time, and it was nice I could end my career on a high note. I kind of knew where I stood, I just needed some time to make sure that it was a decision I was OK with going forward. It was more just to cement the decision."
Bekkering admitted he is going to miss basketball which has been a big part of his life where locals got to enjoy his hoop skills as a standout with the W.R. Myers Rebels and playing for the University of Calgary Dinos.
"There is that camaraderie between the guys and teammates. That playful jabbing and things like that," said Bekkering. "But I'm excited about my future, too, being closer to family. There's sacrifices either way."
That family includes his wife Carli who Bekkering thanked for being so supportive during his basketball career in the Netherlands.
Being married for four years, and dating for the full six years Bekkering played in the Dutch Basketball League, the lovebirds did the long-distance thing for four years.
"She was so supportive and encouraging through the whole thing. Now I get to be close to family where most of mine is in southern Alberta and Calgary," said Bekkering of all his siblings and in-laws residing in Calgary along with his parents and his bride's family residing mostly in Taber. "You get to be a part of a lot more things with these family memories when you are around."