Taber trio help power team at provincials
Posted on July 27, 2016 by Taber Times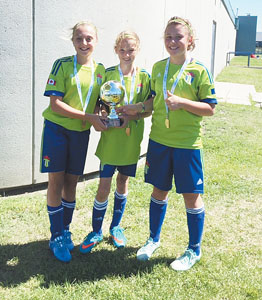 (Photo Submitted) TEAM SUPREME: Lexi Gedny, Jayden DeBoer and Reese Merkl helped their U12 soccer team win Tier IV city provincials in Calgary.
By Greg Price
Taber Times
gprice@tabertimes.com
Three Taberites helped anchor a U12 soccer team that earned gold at Servus City Tier IV Youth Provincial Championships in Calgary this past weekend.
The local zone team managed a mere two goals during regulation, but still managed to finish the tournament undefeated with a 2-0-1 record, including a nine-player shoot-out in the championship game.
"All the games were very, very tight games. All of the six teams that were there were evenly matched talent, skill and coaching wise," said Sam DeBoer, head coach of the gold-medal winning zone team. "There were tight moments in every game where a post was hit here and there, where a goal could have changed the perplextion of the tournament, it was that close."
There was one goal apiece by each side in the gold-medal final among the first eight shooters before sealing the win on the ninth shooter.
"That was nail biter for sure. Shoot-outs normally don't go that long. Usually they go quite quick because the net is so large the goalies aren't quick enough to cover that distance moving side to side. There were a lot shooting straight at the goalie or pure misses. We had one shot that hit the goal post, hit their goalie in the face and then popped out," said DeBoer. "There were a lot of games where it was tough to finish where goals weren't going in for anybody."
Where the goals were going in for the gold-medal winning team was Taberite Lexi Gedny who potted both goals in the team's opening 2-0 win over a team out of Edmonton.
She was joined at the forward position by fellow local Jayden DeBoer.
"Their effort with all three of the kids was consistent all weekend long. They tried hard, they played well and all three were team players," said DeBoer. "Jayden filled in at midfield for us as well. Giving our important two midfielders a break, she drops back, takes over, and understands the midfield game as well as they do."
Taberite Reese Merkl was the rock on the defensive end as the squad's middle defender.
"She is our mainstay in the back. Without her, things could have gone haywire fairly quickly," said DeBoer. "She is really good on the back end. She provides a steady course back there."
The U12 team had players drawn from Taber, Picture Butte, Lethbridge and Coaldale.