Taberites help zone to football bronze
Posted on July 20, 2016 by Taber Times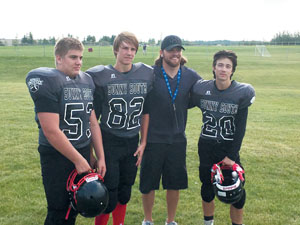 (Photo Submitted by Sandra Jonker Laczo) TEAM TABER: (Left to right) Offensive lineman Ashton Werewka, defensive back Brett Andrus, Sunny South coach Cole Fielder and running back Mike Sawatzky helped Zone 1 earn its first football medal at the Alberta Summer Games in a little over half a decade.
By Greg Price
Taber Times
gprice@tabertimes.com
It was a feeling of deja vu for former Taber and Canadian university football standout Cole Fiedler, when it came to this past week's Alberta Summer Games in Leduc.
This time around, Fiedler was a coach as opposed to a player on the Zone 1 (Sunny South) bantam football team, but the result was the same as the squad earned a bronze medal, which featured three Taberites in Mike Sawatzky, Ashton Werewka and Brett Andrus.
"Last time we (Zone 1) medaled was back when I played in Grade 9 (2009-210 football season)," said Fiedler.
Sunny South played Zone 2 (Okotoks area) in its first game and won 20-14 in a Waterworld of a contest where the ground game proved a difficult one.
"That game was played in a complete rain storm. The field was like a waterfall with the way it was coming down," said Fiedler. "It made for a good old, rough, grind-it out, tough team ground game to win that one. There was a lot of little fumbles and with the field being grass, it turned into a mud bowl. With that kind of weather, we realized we wouldn't have a lot of options offensively in regards to playbook. We had a great running back from Brooks and solid O-line where we kept pounding it out and they didn't have an answer for it."
The win had Sunny South play powerhouse Zone 3 (Calgary area) and fall 35-6 against the squad that rolled to the gold medal, surrendering a mere 13 points over three games on the way to a championship.
"They've won gold every year they've played. We knew it was going to be a tough game going in. We had a lot of film, but what happened there was they weren't a very big team, but they had an exceptionally fast and well-coached team," said Fiedler. "Their linebacker core was extremely good. Some of the best I've ever seen at the Grade 9 level, they flowed to the ball really well. They had two pretty big running backs and a fast and athletic offensive line that grinded it up the middle and we sputtered offensively along with having four kids leave that game with injury. We were just outmatched out there athlete wise, where they have a huge area to choose from."
Sunny South had to make some adjustments for the bronze-medal game due to the injuries, but adjusted quite well in a 38-14 victory over Zone 4 (Red Deer/Parkland).
"We had to make some major adjustments on offence, moving certain linemen to tight end, we brought in our back-up receivers. Defence wasn't as bad having to make adjustments," said Fiedler.
"We got the ground game going which they couldn't stop and that really opened up the playbook with passing, being able to hit our big receivers downfield."
With a medal moment a long time coming for the zone in football at the Summer Games, Fiedler tipped his hat to the three Taberites who certainly did not look out of place among the best bantam football players the province had to offer.
"These kids were not back ups at all. They made a significant contribution to the team on offence or defence. These players made some game-changing plays. I like having kids from Taber, and small-town rural communities shutdown and compete with these big city teams. It shows there is a lot of football talent in Taber. Those three kids are going to be huge for the high school program where they will come in right away as Grade 10s and contribute."
Werewka helped anchor the Sunny South offensive line, playing both centre and guard.
"Ashton is a fantastic lineman in regards to being extremely mobile for a lineman where he's athletic and aggressive. He gets to the second level to the linebackers," said Fiedler. "He's not just satisfied with his first block. He has a great upfield push. He's also very coachable."
Sawatzky tried out originally as a defensive back for the Sunny South team, but was eventually moved over to running back to earn a position.
"He was one of the, if not the most improved player on the team. Mike, for a smaller kid, is very tough and exceptionally quick and his lateral movement is extremely impressive," said Fiedler. "He's also explosive where if he has a hole, he will beat his kid to the edge and then he's gone. We also ended up moving him to kicker as well on the team."
Brett Andrus continued his strong play from the Southern Alberta Minor Football Association all-star game where he recorded three interceptions, serving as a shutdown defensive back in the mold of Hall of Famer Deion Sanders, but without the aversion to tackling.
"Brett, probably in our last game with no word of a lie, was our defensive MVP. He is a fantastic athlete playing halfback and corner. We felt confident as a coaching staff that Brett on any kid on one-on-one coverage, he could lock them down," said Fiedler.
"He also comes up in the play and makes a great play with a tackle. He is very smart, understanding (pursuit) angles. Brett made a bunch of big plays in the last game that were touchdown-saving tackles."