Taber area shines at Summer Games
Posted on July 13, 2016 by Taber Times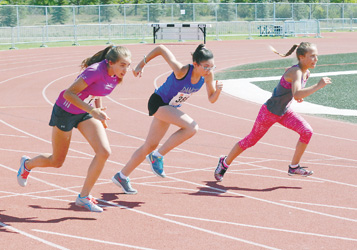 Times photo by Greg Price
By Greg Price
Taber Times
gprice@tabertimes.com
Taber/M.D. of Taber once agian made its prescence felt at the 2016 Southern Alberta Summer Games as the area finished second to only host City of Lethbridge in medal count.
City of Lethbridge was first with 370, while M.D. of Taber finished with 226 (91 gold, 66 silver and 69 bronze). M.D. of Willow Creek finished in third with 134 medals and County of Warner was fourth with 120 medals. M.D. of Pincher Creek also finished with triple-digit medals with 100.
M.D. of Taber also finished second in overall participation points with 3,495 and aggregate points in 717.50.
The following are individual athlete results as listed by last name, first name, region, then placing. They do not include team results, which netted 18 gold, 15 silver and five bronze medals for the region:
3 km Run – 3 Km 40-49 years old Men
Kolody Derry MD of Taber S
5 km Run – 5 km 11 & Under Boys
Makarchuk Alex MD of Taber G
5 km Run – 5 km 12-15 Boys
Boes Alec MD of Taber 7
5 km Run – 5 km 12-15 Girls
Muller Preslee MD of Taber S
5 km Run – 5 km 16-19 Boys
Muller Kaleb MD of Taber G
Muller Mason MD of Taber S
5 km Run – 5 km 20-29 Womens
Doerksen Lynn MD of Taber 6
5 km Run – 5 km 40-49 Mens
Muller John MD of Taber 4
5 km Run – 5 km 40-49 Womens
Muller Staci MD of Taber S
Boes Brunette MD of Taber 4
Archery – Cadet Male Compound
Phillips Spencer MD of Taber S
Archery – Male Masters 60+
Horvath Johnny MD of Taber G
Archery – Male Masters 60+ Traditional
Deme Paul MD of Taber G
Archery – Male Senior Compound Unlimited
Phillips Harley MD of Taber S
Athletics – Bantam 100 Metre Boys
DeBoer Carter MD of Taber 4
Athletics – Bantam 100 Metre Girls
Nielsen Tegan MD of Taber S
Higa Tatum MD of Taber 4
Athletics – Bantam 200 Metre Boys
DeBoer Carter MD of Taber G
Athletics – Bantam 200 Metre Girls
Nielsen Tegan MD of Taber S
Higa Tatum MD of Taber B
Andrus Jesse MD of Taber 4
Athletics – Bantam 400 Meter Timed Boys
DeBoer Carter MD of Taber S
Murphy Jack MD of Taber 5
Athletics – Bantam 800 Metre Finals Girls
Andrus Jesse MD of Taber 4
Athletics – Bantam Discus Boys
Dube Sloane MD of Taber G
Murphy Jack MD of Taber 7
Athletics – Bantam Discus Girls
Nielsen Tegan MD of Taber G
Makarchuk Alanna MD of Taber B
Athletics – Bantam High Jump Boys
Millo Rylan MD of Taber 4
Athletics – Bantam Javelin Boys
Murphy Jack MD of Taber 5
Athletics – Bantam Javelin Girls
Andrus Jesse MD of Taber 4
Athletics – Bantam Long Jump Boys
Murphy Jack MD of Taber B
Dube Sloane MD of Taber 4
Millo Rylan MD of Taber 6
Athletics – Bantam Shot Put Boys
Dube Sloane MD of Taber G
Athletics – Bantam Shot Put Girls
Nielsen Tegan MD of Taber 4
Athletics – Bantam Triple Jump Girls
Nielsen Tegan MD of Taber S
Athletics – Masters Discus Womens
Gurney Sheri MD of Taber 4
Jensen Anita MD of Taber 5
Athletics – Masters Javelin Womens
Jensen Anita MD of Taber B
Gurney Sheri MD of Taber 4
Athletics – Masters Long Jump Womens
Jensen Anita MD of Taber S
Athletics – Masters Shot Put Womens
Jensen Anita MD of Taber 4
Athletics – Midget 100 Metre Boys
Stange Cody MD of Taber S
Huseby Beau MD of Taber 6
Athletics – Midget 200 Metre Boys
Stange Cody MD of Taber 4
Murphy Rory MD of Taber 5
Athletics – Midget 3000 Metre Girls
Millo Jordyn MD of Taber S
Athletics – Midget 400 Meter Timed Boys
Huseby Beau MD of Taber 4
Athletics – Midget 800 Metre Finals Boys
Murphy Rory MD of Taber B
Athletics – Midget 800 Metre Finals Girls
Millo Jordyn MD of Taber B
Athletics – Midget Discus Boys
Gurney Darren MD of Taber B
Huseby Beau MD of Taber 5
Athletics – Midget High Jump Boys
Murphy Rory MD of Taber 6
Athletics – Midget Hurdles (100m) Boys
Murphy Rory MD of Taber 4
Athletics – Midget Long Jump Boys
Murphy Rory MD of Taber B
Athletics – Mighty Mite 100 Metre Girls
Higa Sophie MD of Taber 8
Athletics – Mighty Mite 200 Metre Girls
Nielsen Madeline MD of Taber G
Athletics – Mighty Mite 400 Meter Timed Girls
Nielsen Madeline MD of Taber G
Athletics – Mighty Mite 50 Metre Girls
Nielsen Madeline MD of Taber G
Athletics – Mighty Mite High Jump Girls
Nielsen Madeline MD of Taber G
Athletics – Mighty Mite Long Jump Girls
Nielsen Madeline MD of Taber G
Athletics – Pee Wee 100 Metre Boys
Hansen Heath MD of Taber B
Higa Brock MD of Taber 6
Athletics – Pee Wee 100 Metre Girls
Bullock Brooklyn MD of Taber 5
DeBoer Jayden MD of Taber 8
Athletics – Pee Wee 200 Metre Boys
Hansen Heath MD of Taber 4
Athletics – Pee Wee 200 Metre Girls
Bullock Brooklyn MD of Taber 5
DeBoer Jayden MD of Taber 6
Athletics – Pee Wee 400 Meter Timed Girls
Edlund Olivia MD of Taber B
DeBoer Jayden MD of Taber 4
Edlund Lauren MD of Taber 6
Athletics – Pee Wee 800 Metre Finals Girls
Edlund Olivia MD of Taber S
DeBoer Jayden MD of Taber B
Edlund Lauren MD of Taber 5
Athletics – Pee Wee High Jump Boys
Gurney Tyler MD of Taber 8
Athletics – Pee Wee High Jump Girls
Edlund Olivia MD of Taber G
Edlund Lauren MD of Taber 7
Athletics – Pee Wee Long Jump Girls
Edlund Olivia MD of Taber B
Edlund Lauren MD of Taber 8
Athletics – Pee Wee Shot Put Boys
Gurney Tyler MD of Taber 4
Athletics – Senior 100 Metre Womens
Jensen Cody-Lynn MD of Taber G
Athletics – Senior 1500 Meter Womens
Jensen Cody-Lynn MD of Taber G
Athletics – Senior Discus Womens
Jensen Cody-Lynn MD of Taber G
Athletics – Senior Javelin Womens
Jensen Cody-Lynn MD of Taber G
Athletics – Senior Shot Put Womens
Jensen Cody-Lynn MD of Taber G
Badminton – Singles Open Boys
Payongayong Ronaldo MD of Taber B
Badminton – Singles Open Girls
Pacleb Leila MD of Taber B
Badminton – Singles Under 14 Years (13 & Under) Boys
Reyes Joseph MD of Taber 6
Badminton – Singles Under 14 Years (13 & Under) Girls
Badeo Kimberly MD of Taber B
Zavala Hitanda Karla Jazmin MD of Taber 5
Badminton – Singles Under 16 Years (15 & Under) Boys
Rodrigo Carl MD of Taber B
Manahan Christian MD of Taber 4
Adra Emmanuel MD of Taber 6
Badminton – Singles Under 18 Years (17 & Under) Boys
French Landon MD of Taber G
Cruz Jobert MD of Taber S
Huddleston Dakota MD of Taber B
Hardy Darian MD of Taber 4
Badminton – Singles Under 18 Years (17 & Under) Girls
Payongayong Cherilene MD of Taber G
Agravante Christine MD of Taber S
Cycling – Road Race 11-12 Years Boys 8km
Boes Alec MD of Taber 5
Gurney Tyler MD of Taber 6
Cycling – Road Race 11-12 Years Girls 8km
Muller Preslee MD of Taber G
Cycling – Road Race 8-10 Years Boys 6km
Love Carson MD of Taber G
DeVlieger Branson MD of Taber 4
Cycling – Road Race 8-10 Years Girls 6km
Love Cassie MD of Taber S
Boes Sydney MD of Taber B
Cycling – Road Race Cadet 13-14 Boys 20km
Muller Seth MD of Taber G
Cycling – Road Race Junior 15-17 Boys 20km
Muller Mason MD of Taber G
Cycling – Road Race Masters 50+ Mens 20km
Vanderploeg Kenneth MD of Taber S
Cycling – Road Race Masters 50+ Womens 20km
DeVlieger Janny MD of Taber S
Torsius Elly MD of Taber B
Cycling – Road Race Senior 18-34 Mens 20km
Muller Kaleb MD of Taber G
Schmidt Blake MD of Taber B
Cycling – Road Race Under 8 Years Boys 2km
Muller Owen MD of Taber B
Cycling – Road Race Under 8 Years Girls 2km
Vanderwekken Chloe MD of Taber S
Vanderwekken Kassidy MD of Taber B
Cycling – Road Race Veteran 35-49 Mens 20km
Muller John MD of Taber S
Kolody Derry MD of Taber B
Cycling – Road Race Veteran 35-49 Womens 20km
Muller Staci MD of Taber G
Miyanaga Tamara MD of Taber S
Boes Brunette MD of Taber B
Cycling – Time Trials 11-12 Years Boys 6km
Boes Alec MD of Taber B
Gurney Tyler MD of Taber 4
Cycling – TIme Trials 11-12 Years Girls 6km
Muller Preslee MD of Taber G
Cycling – Time Trials 8-10 Years Boys 4km
Love Carson MD of Taber G
DeVlieger Branson MD of Taber B
Cycling – Time Trials 8-10 Years Girls 4Km
Boes Sydney MD of Taber S
Love Cassie MD of Taber B
Cycling – Time Trials Cadet 13-14 Boys 10km
Muller Seth MD of Taber G
Cycling – Time Trials Junior 15-17 Boys 10km
Muller Mason MD of Taber G
Cycling – Time Trials Masters 50+ Women 10km
DeVlieger Janny MD of Taber B
Cycling – Time Trials Senior 18-34 Men 10km
Muller Kaleb MD of Taber G
Schmidt Blake MD of Taber B
Cycling – Time Trials Under 8 Years Boys 2km
Muller Owen MD of Taber G
Cycling – Time Trials Under 8 Years Girls 2km
Vanderwekken Chloe MD of Taber G
Vanderwekken Kassidy MD of Taber S
Cycling – Time Trials Veteran 35-49 Men 10km
Muller John MD of Taber S
Kolody Derry MD of Taber B
Cycling – Time Trials Veteran 35-49 Women 10km
Muller Staci MD of Taber G
Boes Brunette MD of Taber B
Equestrian – Open Rider Classes- Walk/Trot/Canter ENGLISH (Equitation- Pee Wee)
Ferguson Vane MD of Taber G
Equestrian – Open Rider Classes- Walk/Trot/Canter ENGLISH (Equitation- Junior)
Ferguson Jessie MD of Taber S
Equestrian – Open Rider Classes- Walk/Trot/Canter ENGLISH (Equitation-Intermediate)
O'Brien Riley MD of Taber G
Equestrian – Open Rider Classes- Walk/Trot/Canter ENGLISH (Equitation-Senior)
Christensen Lonnie MD of Taber B
Equestrian – Open Rider Classes- Walk/Trot/Canter ENGLISH (Pleasure- Pee Wee)
Ferguson Vane MD of Taber S
Equestrian – Open Rider Classes- Walk/Trot/Canter ENGLISH (Pleasure-Junior)
Ferguson Jessie MD of Taber B
Equestrian – Open Rider Classes- Walk/Trot/Canter ENGLISH (Pleasure-Intermediate)
O'Brien Riley MD of Taber S
Equestrian – Open Rider Classes- Walk/Trot/Canter ENGLISH (Pleasure- Senior)
Christensen Lonnie MD of Taber B
Equestrian – Open Rider Command Classes (Pee Wee) ENGLISH
Ferguson Vane MD of Taber 4
Equestrian – Open Rider Command Classes (Junior) ENGLISH
Ferguson Jessie MD of Taber S
Equestrian – Open Rider Command Classes (Intermediate) ENGLISH
O'Brien Riley MD of Taber B
Equestrian – Open Rider Command Classes (Senior) ENGLISH
Christensen Lonnie MD of Taber G
Equestrian – Open Rider Equitation over Fences (2′ Maximum- 17 and over)
O'Brien Riley MD of Taber 5
Equestrian – Open Rider Equitation over Fences (2'6 Maximum- Intermediate)
O'Brien Riley MD of Taber G
Equestrian – Open Jumper (2′ Maximum)
O'Brien Riley MD of Taber G
Equestrian – Open Jumper (2'6 Maximum)
O'Brien Riley MD of Taber G
Equestrian – Showmanship (Pee Wee)
Ferguson Vane MD of Taber G
Equestrian – Showmanship (Junior)
Ferguson Jessie MD of Taber G
Equestrian – Showmanship (Intermediate)
O'Brien Riley MD of Taber 4
Equestrian – Showmanship (Senior)
Christensen Lonnie MD of Taber 4
O'Brien Katie MD of Taber 5
Equestrian – Open Rider Classes-Walk/Trot/Canter WESTERN (Equitation- Pee Wee)
Ferguson Vane MD of Taber S
Equestrian – Open Rider Classes-Walk/Trot/Canter WESTERN (Equitation- Junior)
Ferguson Jessie MD of Taber G
Mehlhaff Trinity MD of Taber B
Equestrian – Open Rider Classes-Walk/Trot/Canter WESTERN (Equitation- Intermediate)
O'Brien Riley MD of Taber S
Equestrian – Open Rider Classes-Walk/Trot/Canter WESTERN (Equitation- Senior)
Christensen Lonnie MD of Taber B
Equestrian – Open Rider Classes- Walk/Trot/Canter WESTERN (Pleasure- Pee Wee)
Ferguson Vane MD of Taber G
Equestrian – Open Rider Classes- Walk/Trot/Canter WESTERN (Pleasure- Junior)
Ferguson Jessie MD of Taber G
Mehlhaff Trinity MD of Taber 4
Equestrian – Open Rider Classes- Walk/Trot/Canter WESTERN (Pleasure- Intermediate)
O'Brien Riley MD of Taber S
Equestrian – Open Rider Classes- Walk/Trot/Canter WESTERN (Pleasure- Senior)
Christensen Lonnie MD of Taber G
Equestrian – Open Rider Command Classes (Peewee) WESTERN
Ferguson Vane MD of Taber B
Equestrian – Open Rider Command Classes (Junior) WESTERN
Ferguson Jessie MD of Taber B
Equestrian – Open Rider Command Classes (Intermediate) WESTERN
O'Brien Riley MD of Taber B
Equestrian – Open Rider Command Classes (Senior) WESTERN
Christensen Lonnie MD of Taber B
Equestrian – Open Rider Matched Pairs WESTERN
Christensen Lonnie MD of Taber G
O'Brien Riley MD of Taber G
Mehlhaff Trinity MD of Taber 4
Equestrian – Open Rider Reining Classes (16 and under)
O'Brien Riley MD of Taber G
Ferguson Jessie MD of Taber S
Ferguson Vane MD of Taber B
Equestrian – Open Rider Trail Classes (Pee Wee)
Ferguson Vane MD of Taber B
Equestrian – Open Rider Trail Classes (Junior)
Ferguson Jessie MD of Taber S
Equestrian – Open Rider Trail Classes (intermediate)
O'Brien Riley MD of Taber G
Equestrian – Open Rider Trail Classes (Senior)
Christensen Lonnie MD of Taber 4
O'Brien Katie MD of Taber 7
Equestrian – Poles (Pee Wee)
Ferguson Vane MD of Taber 5
Equestrian – Poles (Junior)
Mehlhaff Trinity MD of Taber B
Ferguson Jessie MD of Taber 4
Equestrian – Poles (Intermediate)
O'Brien Riley MD of Taber S
Equestrian – Keyhole (Pee Wee)
Ferguson Vane MD of Taber 5
Equestrian – 35B. Keyhole (Junior)
Ferguson Jessie MD of Taber B
Equestrian – Keyhole (Intermediate)
O'Brien Riley MD of Taber G
Equestrian – Barrels (Pee Wee)
Ferguson Vane MD of Taber 5
Equestrian – Barrels (Junior)
Mehlhaff Trinity MD of Taber B
Ferguson Jessie MD of Taber 4
Equestrian – Barrels (Intermediate)
O'Brien Riley MD of Taber G
Golf – Boys 13-15 Years Handicap 10-20
Tams Levi MD of Taber 7
Golf – Boys 13-15 Years Handicap 21+
Saunders Dylan MD of Taber 6
Golf – Boys 16-18 Years Handicap 0-9
Makarchuk Andrew MD of Taber G
Golf – Co-Ed 10-12 Years All Handicaps
Makarchuk Alex MD of Taber G
Golf – Girls 13-15 Years Handicap 21+
Makarchuk Alanna MD of Taber S
Golf – Men 19-54 Years Handicap 21+
Makarchuck Alan MD of Taber S
Photography – Photography 12 & Under Co-ed – Digital Manipulation
Hofer Paige MD of Taber B
Photography – Photography 12 & Under Co-ed – My Home Town
Hofer Paige MD of Taber G
Photography – Photography 12 & Under Co-ed- Outdoors
Hofer Paige MD of Taber S
Photography – Photography 13-17 Co-ed – People
Tams Kami MD of Taber G
Sekura Cody MD of Taber B
Photography – Photography 13-17 Co-ed – Sport
Sekura Cody MD of Taber G
Photography – Photography 13-17 Co-ed- Outdoors
Sekura Cody MD of Taber B
Photography – Photography 18 & Over Co-ed – Digital Manipulation
Miyanaga Skylar MD of Taber S
Photography – Photography 18 & Over Co-ed – People
Miyanaga Skylar MD of Taber B
Photography – Photography 18 & Over Co-ed – Sport
Miyanaga Skylar MD of Taber G
Swimming – Ages 11 & 12 100 Meter Backstroke Boys
Velarde Diongreg MD of Taber S
Swimming – Ages 11 & 12 100 Meter Backstroke Girls
Anderson Jessica MD of Taber G
Swimming – Ages 11 & 12 100 Meter Breaststroke Girls
Bos Olivia MD of Taber G
Garner Shea MD of Taber 4
Carver Emily MD of Taber 8
Swimming – Ages 11 & 12 100 Meter Butterfly Girls
Anderson Jessica MD of Taber S
Swimming – Ages 11 & 12 100 Meter Freestyle Girls
Wright Darci MD of Taber G
Silver Tayla MD of Taber 4
Swimming – Ages 11 & 12 100 Meter Individual Medley Girls
Wright Darci MD of Taber S
Silver Tayla MD of Taber 6
Garner Shea MD of Taber 7
Swimming – Ages 11 & 12 200 Meter Freestyle Girls
Anderson Jessica MD of Taber S
Swimming – Ages 11 & 12 50 Meter Backstroke Boys
Velarde Diongreg MD of Taber 5
Swimming – Ages 11 & 12 50 Meter Backstroke Girls
Anderson Jessica MD of Taber S
Wright Darci MD of Taber B
Swimming – Ages 11 & 12 50 Meter Breaststroke Girls
Bos Olivia MD of Taber S
Garner Shea MD of Taber 4
Swimming – Ages 11 & 12 50 Meter Butterfly Girls
Silver Tayla MD of Taber S
Carver Emily MD of Taber 7
Swimming – Ages 11 & 12 50 Meter Freestyle Girls
Silver Tayla MD of Taber S
Bos Olivia MD of Taber 5
Garner Shea MD of Taber 8
Swimming – Ages 13 & 14 100 Meter Backstroke Boys
Cook Chance MD of Taber B
Swimming – Ages 13 & 14 100 Meter Freestyle Boys
Cook Chance MD of Taber S
Swimming – Ages 13 & 14 100 Meter Freestyle Girls
Bos Morgan MD of Taber G
Swimming – Ages 13 & 14 100 Meter Individual Medley Girls
Bos Morgan MD of Taber 4
Swimming – Ages 13 & 14 50 Meter Backstroke Boys
Cook Chance MD of Taber B
Swimming – Ages 13 & 14 50 Meter Butterfly Girls
Bos Morgan MD of Taber G
Swimming – Ages 13 & 14 50 Meter Freestyle Boys
Cook Chance MD of Taber G
Swimming – Ages 13 & 14 50 Meter Freestyle Girls
Bos Morgan MD of Taber B
Swimming – Ages 15-17 100 Meter Breaststroke Girls
Garner Kelsey MD of Taber S
Clarke Jordyn MD of Taber B
Clarke Jenna MD of Taber 4
Swimming – Ages 15-17 100 Meter Freestyle Girls
Wright Dani MD of Taber B
Garner Kelsey MD of Taber 4
Clarke Jenna MD of Taber 6
Swimming – Ages 15-17 100 Meter Individual Medley Girls
Clarke Jenna MD of Taber 5
Swimming – Ages 15-17 400 Meter Timed Freestyle Girls
Wright Dani MD of Taber B
Clarke Jordyn MD of Taber 4
Swimming – Ages 15-17 50 Meter Backstroke Girls
Wright Dani MD of Taber B
Swimming – Ages 15-17 50 Meter Breaststroke Girls
Garner Kelsey MD of Taber S
Clarke Jordyn MD of Taber 4
Clarke Jenna MD of Taber 5
Swimming – Ages 15-17 50 Meter Freestyle Girls
Garner Kelsey MD of Taber 4
Clarke Jordyn MD of Taber 6
Swimming – Ages 45 & Up 25 Meter Backstroke Mens
Poole Dayna MD of Taber G
Swimming – Ages 45 & Up 25 Meter Breaststroke Womens
Cook Denise MD of Taber G
Swimming – Ages 45 & Up 50 Meter Backstroke Mens
Poole Dayna MD of Taber G
Swimming – Ages 45 & Up 50 Meter Breaststroke Womens
Cook Denise MD of Taber G
Swimming – Ages 45 & Up 50 Meter Freestyle Womens
Cook Denise MD of Taber G
Swimming – Ages 6 & U 50 Backstroke Girls
Kress Mikayla MD of Taber 5
Hall Bria MD of Taber 7
Swimming – Ages 6 & Under 25 Meter Backstroke Girls
Kress Mikayla MD of Taber 4
Swimming – Ages 6 & Under 25 Meter Flutterboard Girls
Kress Mikayla MD of Taber G
Kormos Katelynne MD of Taber 6
Swimming – Ages 6 & Under 25 Meter Freestyle Girls
Kress Mikayla MD of Taber 4
Swimming – Ages 7-8 25 Meter Backstroke Boys
Leishman Benson MD of Taber B
Swimming – Ages 7-8 25 Meter Backstroke Girls
Tymko Jayda MD of Taber B
Tymko Petra MD of Taber 5
McClenaghan Morgen MD of Taber 6
Swimming – Ages 7-8 25 Meter Breaststroke Girls
Tymko Petra MD of Taber G
Tymko Jayda MD of Taber 4
Swimming – Ages 7-8 25 Meter Freestyle Boys
Leishman Benson MD of Taber 5
Swimming – Ages 7-8 25 Meter Freestyle Girls
McClenaghan Morgen MD of Taber B
Swimming – Ages 7-8 50 Meter Backstroke Boys
Leishman Benson MD of Taber B
Swimming – Ages 7-8 50 Meter Freestyle Boys
Leishman Benson MD of Taber 4
Swimming – Ages 7-8 50 Meter Freestyle Girls
Tymko Petra MD of Taber 6
Swimming – Ages 9 & 10 100 Meter Freestyle Boys
Bevans Heston MD of Taber 7
Swimming – Ages 9 & 10 100 Meter Individual Medley Girls
Hofer Paige MD of Taber 8
Swimming – Ages 9 & 10 25 Meter Backstroke Boys
Bevans Heston MD of Taber 5
Swimming – Ages 9 & 10 25 Meter Backstroke Girls
Carver Rebecca MD of Taber B
Swimming – Ages 9 & 10 25 Meter Breaststroke Girls
Duell Ainsley MD of Taber S
Carver Rebecca MD of Taber 5
Swimming – Ages 9 & 10 50 Meter Backstroke Boys
Bevans Heston MD of Taber 4
Swimming – Ages 9 & 10 50 Meter Backstroke Girls
Carver Rebecca MD of Taber B
McClenaghan Bronwyn MD of Taber 8
Swimming – Ages 9 & 10 50 Meter Breaststroke Girls
Duell Ainsley MD of Taber 4
Hofer Paige MD of Taber 7
Swimming – Ages 9 & 10 50 Meter Freestyle Boys
Bevans Heston MD of Taber 7
Trapshooting – Boys 13-17 Years
Phillips Spencer MD of Taber 6
Trapshooting – Men 18-54 Years Class B (85-89%)
Phillips Harley MD of Taber G