Max Gibb award a family affair at SASG
Posted on July 13, 2016 by Taber Times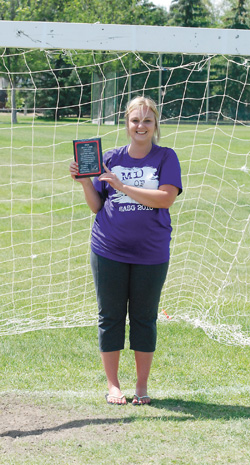 Times photo by Greg Price
By Greg Price
Taber Times
gprice@tabertimes.com
The Max Gibb Award is becoming a tradition for one Taber family.
For her contribution to soccer over the years at the Southern Alberta Summer Games, Aleah Weiss was the sole recipient from the Taber region to earn the Max Gibb Award.
"I've been on the (Taber) soccer board for the last five years and I've been doing Summer Games for nine or 10 years now (coaching)," said Weiss. "I really enjoy it, especially Summer Games. It's a good atmosphere, it's a little more competitive than the soccer around here and it's fun. You get to travel a little bit too with family."
Weiss didn't have to travel far this year with the 2016 Games being in Lethbridge where the family returned home every day of the event, but it has served as a bond with family ties with extended family taking in the event in other areas in southern Alberta.
"A lot of years we've camped. The more you do at the Games, you could be there for a week where it's a mini staycation, and it's cheap for families. It costs $15 to compete, so any family can do it," said Weiss, adding it is a way to encourage kids and adults alike to remain active during the summer months. "It's a great family atmosphere."
Weiss started off coaching U16-U18 at the Games, but switched over to U8 with her son Lincoln playing and finishing as a silver medalist on the M.D. of Taber contingent in 2016.
"It's very different, but still a lot of fun. I wouldn't say it's any less competitive, parents can be crazy at U8," said Weiss with a chuckle. "It was a shock to me for awhile, but I'm used to it now. You have to be a little easier on the kids simply because you have less practices with them being so young at U8."
Ironically enough, with how long Aleah has been involved with soccer in the Taber area, it looked like the path may have been a short one.
Aleah comes from a blood line where along with parents that have been involved in soccer in Taber, her brothers Stefan and Wyatt and sister Jordin all played soccer in the area since they were young.
"I started off with my mom telling me that I acted like I didn't want to play soccer. She forced me a little bit," said Weiss. "I started off playing when I was four or five years old, up until I was 18. I think I played with my hair and the dandelions my first few years or so I hear," continued Aleah with a laugh and a smile.
"I love soccer now. It's competitive, it's fun and it's a good team atmosphere. Anyone can play and it's a cheap sport for families to play."
Aleah's mother Lori won the same award back in 2005 along with a plethora of other Taber-area locals in Greg Saunders, Ron Chmielewski, Sandy Sangster, Debbie Sargeant and Darrell Turner.
"It was a total shock for me. I didn't even know I was nominated. They texted me and said I won and there was no heads up. But, it was a pleasant surprise," said Weiss.
The 2017 Southern Alberta Summer Games are scheduled for Brooks.