Taber Recreation Board learns of spray park vandalism
Posted on July 6, 2016 by Taber Times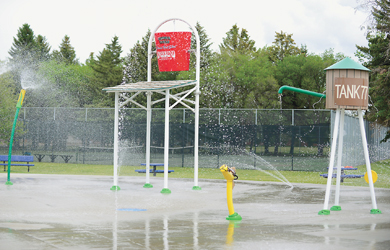 Times photo submitted by Cody Sekura
By Greg Price
Taber Times
gprice@tabertimes.com
Taber Recreation Board heard of town administration concerns over the rash of vandalism the Taber Spray Park has endured in recent weeks.
"We had some urination on our doors and on the walls and on the floors. We routinely have to deal with all the toilet paper being taken out of the dispensers and stuck to the ceiling. Last week we had the toilet paper dispensers, we had to replace them all because they were ripped apart. It wasn't just putting them back together, they were bent," said Aline Holmen, director of recreation for the Town of Taber at the Taber Recreation Board's June 16 meeting. "And there is some minor damage out on the pad itself —including broken glass."
Luke Wijna, chairperson for the Taber Recreation board inquired if similar vandalism has been done to the bathrooms attached to the town administration building, a little ways away from the spray park bathrooms at Confederation Park.
"There has been damage," said Holmen. "Sometimes worse. We've had broken sinks, the back of the toilets broken, urination stains — the same thing. Just so you are aware, when you have automatic doors, they unlock at 10 a.m. and they lock up at 9:30 at night. Nobody can be locked in, once you are in, they will let you out after 9:30, but you can't go back in after 9:30."
The incidents have been reported with requests by administration to town police to do more drive bys of Confederation Park.
"It's an ongoing battle, and Aline has been very nice about what's been going on in this bathroom right out here. But the things that go on are absolutely gross that staff has to go clean up. It is absolutely repulsive, what human beings can think about doing in a bathroom," said Randy Sparks, town councillor and recreation board member. "It's very unfortunate that you go and build facilities and open things for people to enjoy and even though it's a small percentage of people being dumb, it still creates issues for out staff — it's not right."
Recreation board member Darcy Firth recalled a night he walked through the park, heard some voices, looked up and saw two kids inside the water bucket feature at the Taber Spray Park.
"They looked like they were 14, 15, 16 years old. I yelled at them to get down. As they are getting down, the water bucket is tipping on them — it's a safety concern," said Firth. "Where that water bucket is, it's a very dark corner of the spray park."
Holmen added that there has a work order been to put in to put a sensor lights at the tennis court area, so that would aid the situation, along with requests to police for increased patrols around the area.