Saddle up for the Taber Pro Rodeo
Posted on July 6, 2016 by Taber Times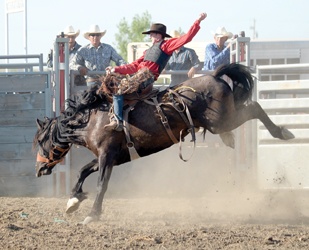 TIMES FILE PHOTO
By Greg Price
Taber Times
gprice@tabertimes.com
It may be a pared down version for 2016, but the 78th Annual Taber Pro Rodeo is promising plenty of buck for your buck this weekend.
Drawing cowboys and cowgirls from across Canada and the northern United States, the quality of those bucking broncos and bulls will certainly not be lacking.
"Girletz is our main stock contractor and he uses two other contractors as well. So you are drawing stock from three contractors, so it'll be really good stock, it won't be mediocre," said Barry Jensen, president of the Taber Pro Rodeo Association. "We've got a good entry this year. We are only going with two purses this year with the Saturday and Sunday, with the slack on Sunday."
Perhaps two days, but those two days will be jam packed. The gates to the pro rodeo grounds will open at 5 p.m. on Saturday (rodeo at 6 p.m.) and 1 p.m. on Sunday (rodeo at 2 p.m.) with the slack at 10 a.m. on Friday.
"I still think it's one of the greatest sports we have going and it's one of the longest heritage sports we have going. These cowboys are derived from the people who helped build this country."
Liberty Entertainer Cassie Horner will be on hand once again doing some trick riding and Miss Rodeo Taber 2016 is scheduled to make an appearance as well according to Jensen. A crowd delight is also seeing the youngsters six and under doing mutton busting, as they hang on for dear life.
There are 11 novice riders, 15 saddle bronc riders, 16 bareback riders, 15 bull riders, 55 calf ropers, 53 steer wrestlers, 74 barrel racers and 38 team ropers.
"That's a pretty good entry for a two-day event," said Jensen. "With the rough stock part of it, they've told me out of Calgary that it's down on all the rodeos a little bit this year, so we've done quite well."
With the pro rodeo association having to pare down the rodeo this year slightly, it is a sign of the times all across Canada as the nation looks to recover from a downturn in the economy from slumping oil prices.
"A lot of the cowboys who go to these rodeos work in the oilpatch that help support this and you know what's happened there in the last two years," said Jensen, adding nevertheless, the support continues for what is the longest continuos pro rodeo in all of Canada as it celebrates its 78th birthday. "People can argue (that it's not the longest), but we've done the research. There's been other rodeos that have been on longer than us, but they have not been consecutive pro years. That's a great feat for Taber, to be able to pat themselves on the back and say that. That would not be possible without our sponsors and our supporters in the stands."
Cost for admission is the same as last year with $15 for adults, and $10 for seniors and children between five and 14 years old.
"We try and keep it so it's an affordable event for families to go to," said Jensen. "We want people to come out and visit and enjoy and have a good time."
The Taber Pro Rodeo grounds are located one-and-a-half miles north of Highway 3 on Highway 864 on the Park Road NE 1/4 1-10-17 W4.