Spurs earn wins against three teams
Posted on June 29, 2016 by Taber Times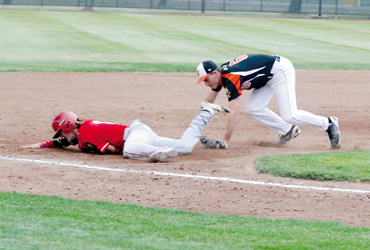 Times photo by Greg Price
By Greg Price
Taber Times
gprice@tabertimes.co
Vauxhall Spurs baseball club earned a healthy number of wins during a busy week of American Legion 'A' baseball, but head coach Joel Blake would like to see that complete-game killer instinct as the squad moved to 13-5 on the season.
The Spurs absolutely pounding the Lewistown Redbirds starter in its first game of a doubleheader at Jets Stadium last Thursday, chasing him after surrendering seven runs over two innings. But then the Spurs were handcuffed by a soft tosser as Lewistown was able to pull out a 13-7 victory.
"It was very similar what happened to us on Thursday night and Monday night. We let them hang around and hang around. We kicked out their starter in the second inning and they brought in a guy that was throwing just muffins," said Blake. "We have to be better at making adjustments. We do a great job with hard throwers, it's just those slow guys we need to make adjustments on. Maybe we need to do some slow velocity in batting practice, but that can be counter-productive too if you are throwing muffins in batting practice and then facing a guy with A-plus speed."
The Spurs rebounded in its second game in a dominating 13-4 victory over the Redbirds, with Kaden Fujita earning the win on the mound.
"In my opinion, that was the best arm we faced so far and we got all over him banging the ball around and chased him in the second inning and got to the bullpen early," said Blake. "We did a better job of hanging on."
The Spurs proceeded to sweep the Fort Macleod Royals on the road on Sunday with 8-2 and 11-7 wins.
Jayden Bexte started both games, and hit a home run and two doubles while playing solid defence at third base.
Matt Melnychuk tossed a complete game for the win in the first game. Surprise starter Reed Odland threw the second game, with Odland usually found on the other side of the plate at catcher.
"Matt has improved by leaps and bounds. Two years ago when he was playing, he struggled on the bump, but he now throws a lot of strikes and has a lot of compete," said Blake. "(Reed Odland) I don't think I've ever even put him on the mound in three years and he carved it. He got us through 6 2/3rds innings. He did a great job filling up the strike zone."
The Spurs concluded its week with a doubleheader against Y's Men Miners at Jets Stadium on Monday with an 8-7 loss followed by a shortened 14-4 win with the mercy rule. Vance Fode hit two homeruns in the second game of the doubleheader to pound the Royals into submission with Odland registering five hits on the day.
"We got up by seven runs in the first two innings again and then let them hang around again. Jalen Lane did not have his best stuff that night," said Blake. "We let teams hang around, satisfied with these seven run leads and they are obviously not enough as it bit us in the ass. Then we mercy them the next game. At times we show that killer instinct where we have two different baseball teams. We have our 'B' team where we sort of just go out just to play, then we lose and we get pissed off and dominate teams. We need to find something that motivates us when we get to the yard, not after a loss."
The Spurs host the Tri-County Cardinals today with games at 5:30 and 8 p.m. at Jets Stadium.
The team continues on to host Havre North Stars on Thursday with games at 3 and 5:30 p.m. The busy week continues with Canada Day being celebrated with an Alumni Game at 6 p.m. at Jets Stadium.
Spurs finish off the week's action on Sunday with a road doubleheader against the Havre North Stars.