Mills making boxing comeback
Posted on June 22, 2016 by Taber Times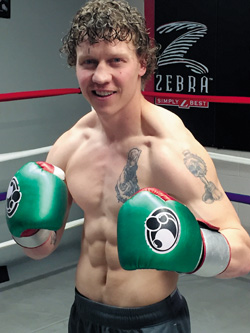 TIMES FILE PHOTO
By Greg Price
Taber Times
gprice@tabertimes.com
Taberite Joel Mills will be celebrating his birthday on Saturday.
That day will also be a rebirth of his professional boxing career.
Still in his 20s, Mills still has plenty of his prime left in a pro boxing career that started when he was a teenager. But, it was physical problems that forced Mills into early retirement with two broken hands, severed tendons and elbow problems as a laundry list of physical ailments.
But that flame to get back into the ring was never ever completely extinguished.
Now, after seven-plus years away from competitive boxing, Mills will be putting the gloves on for a fight card this Saturday in Calgary at the Deerfoot Casino.
"It's been sort of surreal. I honestly thought this dream died a long time ago. But the motivation I've got from my friends and family and the people in Taber have been happy to hear I'm coming back," said Mills.
"They want to see me succeed. Everyone around here haven't done nothing but motivate me in my announcement of my comeback."
While appreciative of all the support he has got from the community in Taber, Mills admits there is a stillness inside of him as he approach's Saturday's fight despite being away from competitive boxing for numerous years.
Gone are the butterflies for when he first started his pro career, replaced by a clarity that his comeback is about answering only things about himself and the love of boxing that had his parents lie about his age so that he could start the sport as soon as possible.
Mills started boxing when he was nine years old, although the minimum age was 10 at the time.
But having been bugged since Joel was six years old, his parents finally relented, fibbing about his age.
Still in the bliss as a newlywed with a young family on the way and an established businessman in the community he has always loved and called home, now it is simply his love of the game to see how far he can take it from the first step in the comeback, perhaps down the line being able to fight in front of his hometown.
"There is a real different feeling to this one. It's different in that I don't feel the pressure that I used to. Now I feel I can have some fun with it," said Mills. "In a way, it's about proving something to myself. There was all this pressure to perform because that's the only thing I had to focus on."
Mills has dedicated himself to a long, hard training camp that started back in the beginning of March when the fight was being negotiated.
"I'm definitely ready to fight both physically and mentally. Physically, I'm in the best shape I've been in, in a long, long time. I'm ready to go," said Mills. "I've done a lot of sparring and I've focused a lot more on defense than I used to. With maturity, I've learned that's the most important part of the game. You have to be able to hit and not get hit back."
The fight is against Justin Schmit from Strathmore, who is making a transition from MMA fighting. A boxer from Mexico was originally in the works, but there were too many variables for Mills' first fight back in the ring to take that risk of an international fighter.
"There is always a risk picking up a guy form Mexico because you don't know if he is going to make it across the border. there are so many different checkpoints they have to get through," said Mills.
Schmit agreed to take on the fight if he could fight at 174 pounds which gives the Strathmore fighter a decided weight advantage.
"That's quite a bit to give up six pounds on the scale, because that number is probably going to double (after cutting weight) in the ring. I'll be giving up size in the ring. But, it's a double-edged sword if you cut too much, it can be very taxing. I know he's coming down from 190," said Mills. "What that tells me is he's going to be really dangerous for a round or two and for the last two rounds is when I can take advantage, although I'll try and take advantage the whole time. I'll use my skill set to outbox him. His advantage for power will only be for a couple of rounds, where I'll have better cardio later on."
Golden Gloves as an amateur along with a string of other accolades, six wins as a professional, including two appearances at the Playboy Mansion fight card, and keeping his skills honed while being a part owner of a gym, Mills will be using his vast expertise in the ring in which he hopes to overwhelm his opponent.
"You will be hard pressed to find guys around here (in southern Alberta) with the experience in the ring I've had. Over the course of the last eight years, I've grown maturity wise," said Mills. "And I've been fortunate, it's fallen together that a few of my key training partners happened to be around here for some really good sparring."
Saturday's fight for Mill swill answer all the questions that he has for himself if he will continue his comeback.
"If they are answered in the affirmative, I will keep going. But just being given this opportunity to do this again and have the people behind me so much, I feel like nothing has changed and that's an awesome feeling," said Mills who will have nearly half the 700-seating capacity at the Deerfoot Casino cheering him on as Taberites. "Not many people are going to be able to match my motivation because of the people of Taber. Win, lose or draw…whatever happens, it will be a moment to remember for me. When I first decided on my comeback, I didn't know if people were going to get behind me like they used to. Maybe they figured I was an old washed-up boxer. But I turned pro so young and retired so young, I'm making a comeback with still some prime. I am so thankful of the support from Taber."