Thibodeau flying in rarified air
Posted on June 15, 2016 by Taber Times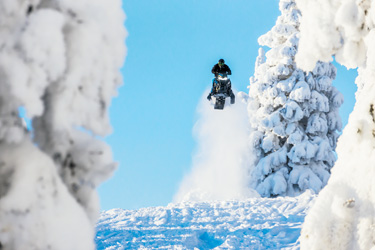 Times photo submitted
By Greg Price
Taber Times
gprice@tabertimes.com
There is a sort of Yin and Yang to Taberite Logan Thibodeau's passion for snowmobiling.
Likely wishing winter was 12 months out of the year so he can shred through kilometres of the white stuff throughout Western Canada on his snowmobile, there is still all that stillness he takes in of the breath-taking scenery in front of him.
"I've always been outdoorsy. Anything about the mountains, that's home for me," says Thibodeau. "If I'm stressed out about work or things at home, you get to those mountains with two feet of fresh snow, nothing else matters."
Being out in the mountains has its serenity, but it's the adrenaline rush that keeps Thibodeau coming to his extreme snowmobiling that is now getting him recognized in North America.
"It's getting that scare in you that the jump may be a little too big, but you go for it anyways. There's that art of flight when you hit the lip and hope you make it to the sweet spot and make that perfect landing," says Thibodeau. "There's no other feeling like it, really."
Logan grew up riding around Fernie, British Columbia since he was seven years old and doubling back into the backcountry with his dad since the age of four for his first sled ride. A snowmobile has almost been as natural an extension of Thibodeau's body as his very feet.
Thibodeau just landed his first major snowmobiling feature with Braaap films on iTunes that will air in a couple of months.
The footage of Thibodeau's extreme snowmobiling is from earlier this year where he was out in Revelstoke, British Columbia for four days, as his footage was good enough to make the movie.
Thibodeau's snowmobiling exploits have been sponsored by Mountain Sports Distribution, Klim, Snowpulse, Armor Decks, Pinned Brand, Twice MX, Zbroz Racing and Exit Shocks.
"When you hook up with those guys you get all sorts of things like cheap parts and gear and lots of exposure," says Thibodeau. "It's helped me get my name out there and what not."
Those landings Thibodeau speaks of have not always been perfect as he's suffered numerous injuries over the years. But all the bumps and bruises are like badges of honour as he continues to pursue his passion for extreme sport like his snowmobiling.
"It's never slowed me down. I basically work eight on, six off, so my six days off, I'm in Fernie or Golden or Revy…a bunch of people from Taber all rent a place in Fernie in the winter, and on average I put between a 1,000 and 1,800 miles on my sled every winter," says Thibodeau.
Some people storm chase hurricanes or tornados, Thibodeau regularly chases blizzards to get that Nirvana-like state for his riding conditions for his snowmobile.
"If you can catch the storm the day after when it breaks and it lays down three or four feet of fresh pow down and you see those blue skies, you only get a couple of those in a season, but when you get one, you'll never forget that day," says Thibodeau.
"You will be sitting with your buddies 10 years from now and you will remember that epic day when the sun broke and there was three feet of powder. It's those days that we live for. It's just insane. There's people who just don't get it just because they are not back there experiencing it. It's like heaven."
Thibodeau pays tribute to his father Ron for his daredevil attitude, passion and expertise in his pursuit of snowmobiling.
"It's being able to read the terrain. The second you are scared and you let off that throttle, you're going to crash. You have to stay on it," says Thibodeau of the wisdom he took from his father. "If you're scared, you're going to fail. If you have confidence, you are going to pull the line."
The Taberite admits his fiancee and mother get worried at times with his high-flying ways on a snowmobile where one not only has to worry about injuries in crashes, but avalanche warnings as well as one tackles the mountain.
"I run an inReach with a satellite device, so I can check in all day. I can check in at lunch, supper and sundown. I can go on Facebook, I can send texts from wherever I'm at in the back country," says Thibodeau. "That's how I communicate with my family, but my mom takes it the hardest. She stresses hard, she worries a lot."
But for whatever concerns family may have, when the siren's call of winter comes, Logan is there on the mountain, being as passionate about something as he is with his family.
"Winter is my favourite part of the year. Snowmobiling is a part of me. I can't imagine it not being a part of my life."