Spurs enjoy six-game win streak during week
Posted on June 15, 2016 by Taber Times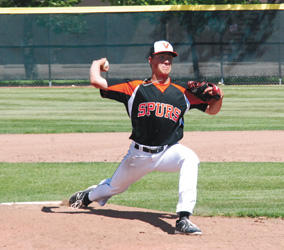 Times photo by Greg Price
By Greg Price
Taber Times
gprice@tabertimes.com
After stumbling out of the gate to start its American Legion 'A' baseball season, with two losses to the Lethbridge Miners due to pitching control issues and defence, the Vauxhall Spurs rattled off six straight wins, including four at home at Jets Stadium.
The first two were 13-7 and 13-1 wins over Medicine Hat Knights on the road on Thursday.
"I thought we did a good job of cleaning things up (from the losses against Lethbridge), definitely on the defensive side," said Joel Blake, head coach of the Vauxhall Spurs.
Ryan Marshall started on the mound for the Spurs in the first game and after some early-inning jitters, settled down nicely.
"As you know from last year, he's had some issues with the ball four, and he got off to a bit of a rough start. But then he made a really good adjustment," said Blake. "I asked him what adjustment he made and he said 'I just started getting pissed off.' And I said maybe that's something he needs to look at being pissed off going into the game, rather than the second inning," Blake continued with a laugh. "He did a good job settling in. KJ Moreno filled in for the second game pitching and I knew what to expect with him having coached with the (Vauxhall Academy of Baseball)."
Bashing the ball around with 26 runs of offence in the two-game set with Medicine Hat, Blake highlighted Dylan Wolosuk and Matt Melnychuk in helping carry the load offensively.
The Spurs played two exhibition games against an underage U17 touring team out of Edmonton who were already 20-games into its season when the two teams clashed for a doubleheader on Saturday afternoon at Jets Stadium.
The Jets handled Edmonton easily with 14-4 and 14-8 wins that saw Hunter Johnson and Erik Anderson start on the mound.
"They were fairly weak, but it was a good day for guys who needed to get some work on the bump and to get some of our bench guys into a game where they can just go out and play and not worry about the pressure of league games," said Blake.
The Spurs finished off its busy week with a 12-0 blanking and 16-2 win against Great Falls Electrics on Sunday at Jets Stadium. Both games were called early with the mercy rule.
"It turned out well. I was a little concerned after the exhibition games, being the games were not very competitive and it's hard to stay up in those types of games," said Blake. "But we came out and swung the bat like we can."
Kaden Fujita hit a grand slam in the first game for the walk-off mercy rule.
The team now prepares to extend its homestand with a Friday doubleheader against the Fort Macleod Royals starting at 6 p.m., with the second game at 8 p.m. The team then hosts Medicine Hat Knights on Sunday with games at 1 p.m. and 3:30 p.m. at Jets Stadium.
"I think with how we started our season (with the two losses), with the message it sent. It's a good thing to go through that, get those games out of the way where we booted the ball around and had some meltdowns," said Blake. "Whether we have another one of those, I hope not, but it's still a possibility. It's too early to tell. But it was an eye opener to us that nothing is going to be handed to us in this league. You still got to play baseball. I've said this at the beginning of the season, and I'm probably going to say it all the way through, if we throw strikes and play defence, we are going to be hard to beat because I know the offence will be there."