Rugby Rebels earn Tier III title
Posted on June 8, 2016 by Taber Times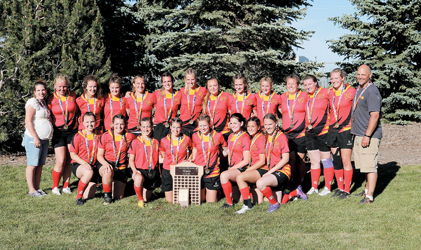 Times photo submitted
By Greg Price
Taber Times
gprice@tabertimes.com
W.R. Myers Rebels varsity girl rugby team dominated its way to the Tier III provincial girls rugby title in Lethbridge over the weekend.
Playing in three matches where the stifling Rebels' defence only surrendered three points all weekend long, the Rebels would eventually beat Springbank 39-0 in the championship on Saturday. The Rebels other matches on Friday were just as lopsided in 56-0 and 41-3 victories.
"There were a combination of factors. The main one was our speed from our backs. With players like Genna Wright, Millay Johnson, and Tiffany Olsen. There was a lot of speed on the back line and that was a dominating factor," said Andrew Llewelyn-Jones, a co-coach with the W.R. Myers Rebels girls rugby program. "The forwards also dominated and were just amazing out there this past weekend. Offloading was great. They did everything right, not to say there weren't a few dropped balls here and there, but the team performance was exceptional. They were pumped for it and they were ready for this tournament."
That preparation and team intensity, Llewelyn-Jones attributed to the top-notch stewardship of varsity coaches Chris Komery and Shayla Anderson.
"They have been extremely well coached. Hats off to them for bringing this team together as a unit. You could see the camaraderie on the field and off the field in the closeness of the team," said Llewelyn-Jones. "They fought for each other. You could hear them out there, encouraging each other in the play, and they were not getting on each other's cases if there was a mistake made. That comes from the coaching staff in getting them to the point of where they are."
This is the fifth year Komery has served as a coach with the varsity girls team and this year marks the team's most dominant season to date.
"This hands down has been the most dominant, talented team I've ever had," said Komery. "With our final game on Saturday, it was 39-0, but it was not indicative of how hard that game was on both sides. We just capitalized on mistakes."
Seeing how south teams did in the province overall, it shows just how strong the rugby game in southern Alberta has been.
"In Tier II, the boys and girls rugby provincials were both won by Winston Churchill. We won the Tier III provincial title and I know in Tier I girls Raymond (a team W.R. Myers beat), made it to the final, but were beat by Bev Facey, and I believe LCI got the bronze medal," said Llewelyn-Jones. "Overall, there were some good placings by southern Alberta teams. There is strong rugby down here, no two ways about it."
Komery highlighted the team's first ever win against Raymond in league history as the turning point in knowing he had a special team on his hands on the way to a provincial title.
"I'm calling that the start of our success. Raymond is a tough team to beat on any given day," said Komery of Raymond who were silver medalists in Tier I this year. "The way we beat them, everything seemed to roll from there. I'm very proud of how well this team played all year."
Including league and tournament play, the W.R. Myers Rebels varsity girls rugby team finished its season 13-1.