Barnwell back on top of 2J zone saddle
Posted on June 8, 2016 by Taber Times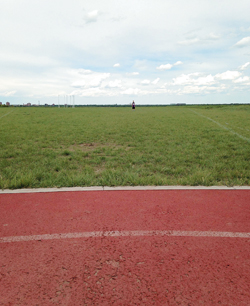 Times photo submitted
By Greg Price
Taber Times
gprice@tabertimes.com
Is this another start for a track and field dynasty at Barnwell School?
Last Wednesday was the South Zone Track and Field Championships at the University of Lethbridge, and Barnwell narrowly came away with the 2J zone banner, outpointing rival Bow Island 63-62.
After an impressive string of five straight South Zone Track and Field titles by Barnwell School, it was snapped by Stirling, and Barnwell School's track coach Aaron Edlund thought his dynasty was over.
The Edmonton Oilers, Montreal Canadiens, New York Yankees, Green Bay Packers, Dallas Cowboys, LA Lakers, Boston Celtics… The list goes on and on for pro sports dynasties, but all must eventually come to an end. But despite not bringing home the track and field crown in 2014 and 2015 for Barnwell, the Trojans never really fell off the map.
"In both years, Barnwell finished in second place," said Edlund. "The trouble is, there is nothing to show for second place at the zone level. In 2014 and 2015 we had some great athletes too, but it seemed like both years we never peaked at zones which is what I am always hoping for," said Edlund, "I don't want to take anything away from Stirling School, but the last two years we didn't have many of those."
That changed in a big way in 2016. Barnwell School had four third-place finishers, three second-place finishers, and three first-place finishers. Each champion, not only won zones, but all three set zone records along the way. Kevin Krizsan smashed the bantam boys javelin record by over two metres with a throw of 37.90 metres, outdistancing the second-place finisher by more than six meters. Krizsan also scored points with a fourth-place finish in the high jump.
"I'm thrilled with Kevin's potential. My hope is that he will anchor our team for two more years," said Edlund.
Kitawna Sparks followed up her 2015 zone record-setting performance in the high jump by again besting the zone record as a juvenile with a jump of 1.57 metres. This year's second-place finisher cleared 1.44 metres. Sparks also scored big points in the shot put with a third-place throw of 10.10 metres.
"We've been extremely fortunate to have Kitawna wearing the Trojan purple for the past few years. She is a special athlete who's name I think we will continue to hear for years to come," said Edlund.
Denzel Gross started his record setting day with a fourth-place finish in the long jump and a third-place finish in high jump. Considering Denzel Gross's diminutive height at 5-foot-6, a jump of 1.73 metres is solid. His explosiveness continued as he set a new zone record in the javelin with a throw of 43.90 metres.
"Denzel is another athlete that will be sorely missed. He has played a huge role in every sport he has participated in over the last few years in Barnwell," said Edlund. "With Barnwell School currently under construction, and both Hayley Platt and Billy Neustater narrowly missing championship banners of their own in their respective javelin events (coming in second place), I've suggested to our principal that we name the new school Javelin Jr. High," continued Edlund with a chuckle.
Despite the strong performances, Barnwell School still had to battle for its 2J zone banner.
"Every year we have fifth and sixth place finishers who are disappointed with their results, but I am constantly telling them that fifth or sixth in the entire zone is pretty darn impressive. And the points that come with a fifth and sixth place finish are pretty darn important too," said Edlund.
"Without Vicky Shimbashi's two thirds (hurdles and 400 metre) or Kyle Molnar and Cody Stange's sixths (3000 metre and hurdles respectively), this zone banner would not have been possible."