Rebels edged by Cardston in Tier II final
Posted on June 1, 2016 by Taber Times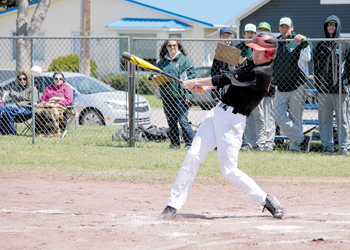 Times photo submitted by Garrett Simmons
By Greg Price
Taber Times
gprice@tabertimes.com
W.R. Myers Rebels baseball team earned the silver medal at the Tier II league championships in Cardston on Saturday.
The Rebels earned two wins in the tournament, making their way to the final against host Cardston where the squad eventually fell 6-1, but not before some controversy in the game.
Trailing 2-1 in the contest, the Rebels had thought they had limited the damage in a crucial swing inning, with a questionable call for an out that did not go their way.
"We thought we had an out that would have ended the inning, and then the next batter hit a single and scored two runs," said Ryan Hutchison, head coach of the W.R. Myers Rebels baseball team. "Even with that, we still had lots of chances to score and we just didn't do it."
Shorthanded three players, who were gone for graduation, the Rebels still fought valiantly against a pitcher Hutchison noted was one of the best they faced all season, as his counterpart Kole Fujita helped keep the rebels within striking distance.
"He pitched really well for us. They got four runs off of him, but I'd say one was earned," said Hutchison. "They had a really strong arm for high school baseball. It took us once through the lineup and then we started getting to him. It seemed like we had guys on after the first two innings, but we couldn't get that one big hit to cash in the runs."
The Rebels Tier II league championship run included a win against Claresholm with Darian Simmons starting on the mound and earning the win. A three-RBI double by Broc Merkl helped seal the win. There was also a lop-sided victory against Erle Rivers (Milk River) in the semifinal in which Cole Jensen earned the win on the mound.
"Missing four players (due to graduation) hurt us for sure for our overall depth. But, it did give other kids a chance that hadn't played much a chance to play. Braxton Kinniburgh came in and played very well for us this weekend, he got a couple of hits for us in the final," said Hutchison.
"I thought we had a pretty good season. I wasn't sure how strong we would be at the beginning of the year, but they improved all year and we were right there in the final at the end of the season."