JV Rebels avenge loss against Raymond
Posted on June 1, 2016 by Taber Times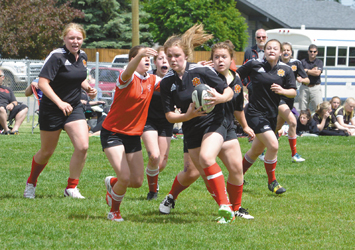 TIMES FILE PHOTO BY TREVOR BUSCH
By Greg Price
Taber Times
gprice@tabertimes.com
W.R. Myers Rebels junior varsity girls rugby team put a satisfying exclamation point on the end of its season with an impressive 3-1 record at its year-end tournament at Myers field on Saturday.
"We had a really good crowd taking in the tournament. I think we had a bigger crowd than last year," said Andrew Llewelyn-Jones, head coach of the W.R. Myers Rebels junior varsity girls rugby team.
The tournament featured Rebels wins against Chinook, Cardston and a payback win against Raymond, avenging an earlier regular-season loss. The team's lone loss came against Winston Churchill with a tight score.
"We lost three of our best players with two of them going to grad and another I held out because of injury (Dani Wright). She was one of our leaders out there and she banged her head in the Raymond game and I didn't want to play her in the last game," said Llewelyn-Jones. "It was still a really good tournament overall. Our forwards are really strong this year. You could tell with how we matched up with other teams how good we were. There is still a lot of work to do with the first-year players, but that's the whole point of having a JV program is to develop skills, and hopefully they have those good skills going into the senior game."
There will be many players graduating to the senior program for the 2017 season as the program continues to gain strength.
"In my opinion, the senior program will be augmented very positively with these girls moving up. We ended up second in the league in varsity and we were 6-1 in junior varsity," said Llewelyn-Jones. "The Myers program is one of the strongest out there in southern Alberta. After a few years of building, we are now where we want to be."
For the junior varsity program, there is going to be a south zone team that competes against other zones in a provincial tournament on July 2.
"We are hoping to get four, five or six girls from our team into the U16 program. There are tryouts on June 10 and I'm hoping to get a bunch of our girls to that tryout," said Llewelyn-Jones.