Vipers prepare for first meet of season
Posted on May 25, 2016 by Taber Times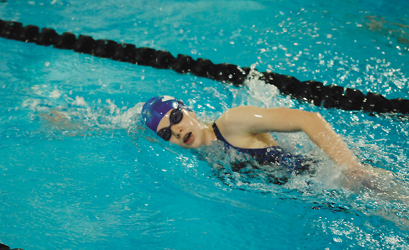 Times photo by Greg Price
By Greg Price
Taber Times
gprice@tabertimes.com
Taber Viper Swim Club has been in the pool for four weeks in preparation for this weekend's first meet of the season as Brooks Barracudas host on Saturday.
"We usually have lower numbers for the first meet of the season because we have a lot of new kids that are just getting into it. But our veteran swimmers will definitely be going," said Teri Cook, co-coach of the Taber Viper Swim Club. "But, there is a lot of talk about new swimmers going for the first meet which may help with numbers."
Hitting the water at the Taber Aquafun Centre for the last month has had the coaches helping swimmers shake off the rust from a fall/winter slumber away from repeated and competitive swimming.
"We want to make sure everyone remembers what they are supposed to be doing, getting sharper on the little things, and doing general conditioning," said Cook of the long meet season ahead, in which the Vipers will be competing in 10 meets over the summer.
The 2016 Taber Viper Swim Club coaching staff includes co-head coach Heather Dutton.
"She has previously coached and competed at university, so we are super lucky to have her come swim with us," said Cook.
Assistant coach and junior coach are Taber Viper Swim Club veterans in Rebecca Bernhardt and Isabelle Bennett respectively.
"The first meet, we usually don't have a whole lot of expectations, but we hope for the best," said Cook, adding the small things, like keeping disqualifications to a minimum and cleaning up the swimming stroke, are key in the early going. "We are super excited for the upcoming season with the swimmers and the parents that we have. They are committed to a season of hard work and fun."