Return to competitive gymnastics continues
Posted on May 25, 2016 by Taber Times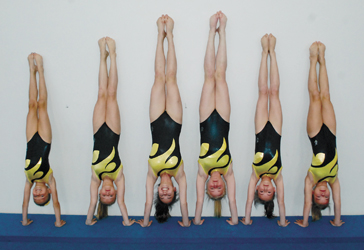 Times photo by Greg Price
By Greg Price
Taber Times
gprice@tabertimes.com
The Taber Gymnastics Fitness Club continues to make inroads into competitive gymnastics.
After a 20-year layoff of Taberites competing in any gymnastics competition, three made the trek to the Hollywood Classic in Calgary in 2015. That number doubled in the 2016 version of the event.
The invitational meet had three different levels to it where Blaze Hansen competed at Level II. Tatum Higa and Cloe Johnson competed in Level III.
"For those levels, they get ribbons and medals based on the score they receive. They are not against anyone at that point. They receive awards individually," said Katrina Brandt, pre-competitive, competitive coach for the Taber Gymnastics Fitness Club, comparing it to test days in figure skating. "We received gold for all those kids in their events except for bars where they received silver."
Camryn Coney, Madison Rempel and Kate Csabay competed at Level V.
"At that point, they are starting to compete against other athletes at other clubs," said Brandt. "Overall as a club, we were super strong at vault. They all received scores of over nine. Kate (Csabay) received a 9.875 out of 10, so she was almost perfect."
Csabay's score earned her first place in vault, while Rempel earned second in vault with a 9.75 and Coney got fourth with a 9.25.
"We are really strong in vault and power exercises. Bars is where we need to work a little harder and that's more about strength and working on the core," said Brandt. "I'm very impressed with how hard each of the kids work when they come here. They have a love of gymnastics, it's not an easy sport. But day in and day out, they are coming to the club and working hard. They genuinely love the sport which is good to see, because as they age, they will hopefully want to start coaching and pass on their passion for the sport for a new generation of athletes."
Taber Gymnastics Fitness Club practices can run approximately three hours, where an hour warm-up is incorporated that includes cardiovascular, along with strength training and flexibility.
"The gymnastic skills are highly strength-focused as well," said Brandt, adding there are currently 16 developmental/competitive gymnasts among the many members of the Taber Gymnastics Fitness Club. "Going from a set up/takedown club a year ago to where we are now with 16 kids in the developmental/competitive program in a small community, that is amazing, it's huge."