Registrations being taken for Southern Alberta Summer Games for region
Posted on May 18, 2016 by Taber Times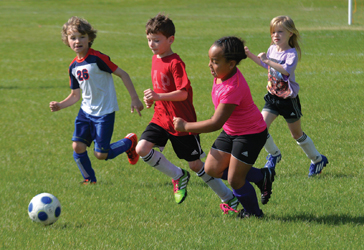 Times photo by Greg Price
By Greg Price
Taber Times
gprice@tabertimes.com
The push is on for registration for the upcoming 2016 Southern Alberta Summer Games.
This year's Games is scheduled for July 6-9 in Lethbridge.
Registrations always are slow to filter in when registration officially first opens, with people eventually flooding in to sign up in the middle of the end of the registration window according to regional directors.
The Games features your regular staples of long-distance running, athletics, cycling, equestrian, golf, swimming, soccer and swimming among others, but a new event will be introduced that has been steadily growing in popularity in North America.
"There is something called pickleball, that will be for people 55 and above," said Emily Bradbury, an M.D. of Taber regional director for the Southern Alberta Summer Games. "It is something that is very interesting to watch and learn about."
Pickleball is a racquet sport that combines elements of badminton, tennis, and table tennis. Two to four players use solid paddles made of wood or composite materials to hit a perforated polymer ball, similar to a wiffle ball, over a net. The sport shares features of other racquet sports, the dimensions and layout of a badminton court, and a net and rules similar to tennis, with a few modifications. Pickleball was invented in the mid-1960s as a children's backyard pastime, but quickly became popular among adults as a fun game for players of all levels. It is the fastest growing sport in North America, where a November 2015 article estimates 250,000 people in 3,500 different places to play pickleball, participate in the sport in North America.
The Town of Taber/M.D. of Taber region always seems to be a powerhouse of participation when it comes to the Southern Albert Summer Games, as the region is regularly in the top three for aggregate points and/or overall medal count, regardless of where the Games are located.
"It's the small-community feel of everything. There are so many sports organizations that we have in small communities and everybody knows each other and they encourage their friends to come out," said Courtney Moser, an M.D. of Taber regional director for the Southern Alberta Summer Games, on how the region on average has such high participation levels. "The parents can participate and also hang out and watch their kids play sports. It's that small community feel where it's fun for everyone."
"It's how it's a family-orientated event," added Bradbury. "Parents are participating with their kids in relays and they get their youngest kids involved where there's a lot of siblings competing together to compete."
Hope spring eternal among the regional directors that they can get as many local residents to sign up as possible, but they are also setting up realistic goals.
"We would love to get 300. We've got really close the last couple of years. But, 300 I think is a good goal," said Moser. "We've had over 500 when we've hosted, and with Lethbridge being so close, it'd be amazing to have between 300 to 400 people. Team sports draw big numbers, but we always get big number in athletics with families. Beach volleyball draws a lot of numbers too and I think that's because of the strong WHAM! club volleyball program here."
While M.D. of Taber and Town of Taber residents can sign up for events at the Grey Room of the Taber Community Centre, the Games still require coaches in some sports if the region is to have teams in those categories.
"We need coaches to step up and we've already had a lot come forward. But, we would love to have more. We are missing coaches for U12 and U14 soccer. As well, for ball hockey teams, we don't have any coaches officially yet," said Moser. "We are also looking for a senior baseball coach and a minor baseball coach too."
Official deadline to sign up for the Southern Alberta Summer Games in Lethbridge is June 3. Contact Courtney or Emily at 403-223-5500 (ext. 5561), or visit them in the Grey Room of the Taber Community Centre, the Games office, from 8 a.m.-noon and 1 p.m.-4:30 p.m. Monday to Friday. Cost is $15 which allows you to play three sports and do five events within those sports.
For more information, you can also e-mail summerprograms@taber.ca or log onto http://www.southernalbertasummergames.com.