Football spring camp begins
Posted on May 4, 2016 by Taber Times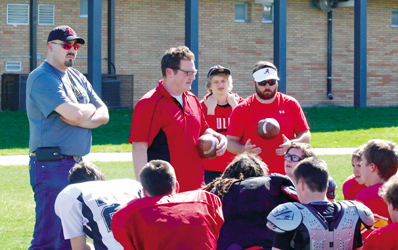 Times photo by Greg Price
By Greg Price
Taber Times
gprice@tabertimes.com
As the leaves descend upon the ground in the fall to signal the official start of football season, it is the spring where gridiron players have their interest in the sport awakened from a winter slumber.
W.R. Myers Rebels football team started its spring camp on Monday and will go until the end of next week. So far, approximately 26 kids have signed up for the Rebels spring camp.
"Our main goal is to get the new kids integrated into the team. Whether it's Grade 9s coming Guppy to Grade 10 or new kids that are coming out. We have a few kids in the different grades that are trying out football for the first time," said Adam Hughes, head coach of the W.R. Myers Rebels football team. "Spring camp is a great chance for these kids to get integrated and for new kids to try out the sport to see if they like it. For the more senior players, it helps shake off the rust. Kids have ben playing hockey and basketball and things like that, so this is their connect into football and getting it on their brains."
Other assistants aside, Hughes will be joined by last year's coaching staff in defensive co-ordinator Jason Jensen and offensive co-ordinator Quintin Cheverie.
"That will be our core staff and we worked well together last year. Those two guys know a lot and they put a lot of work in the offseason to better their coaching staff. We are all excited for sure," said Hughes.
Given the tight time frame of the spring camp, while there is some physical conditioning for the players, the focus is on integrating the playbook.
"It's getting the offence back and getting the timing back. Working on skills and things like that," said Hughes.
Getting some support from a bantam program that saw a lot of highly-skilled players in spread offences and a quarterback out of the shotgun, the high school Rebels are shaping up to be a team that will be looking to widen the field offensively.
"We have lot of athletes and a lot of fast kids with quick speed. Our size is lacking, so the goal of the offence is to get the ball out into space as much as we can," said Hughes. "If we get the ball into space, we are going to have success, so it's all about finding ways to do that effectively."
The Rebels spring camp goes 4-6 p.m. at Myers field on the days the camp is run.
The Rebels are off to Medicine Hat on Friday for a jamboree and then again on May 12 in Medicine Hat for a scrimmage.
If there are any kids between the grades of 10-12 who are not at the spring camp, but would be interested in playing W.R. Myers Rebels football in the fall, they can call or text coach Hughes at 1-306-620-3761.