Rebels rugby battles Mother Nature
Posted on April 20, 2016 by Taber Times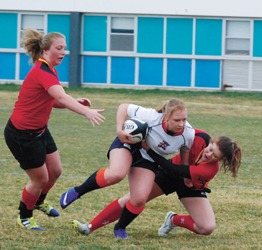 Times photo by Greg Price
By Greg Price
Taber Times
gprice@tabertimes.com
W.R. Myers Rebels girls rugby team had to fight through some adverse conditions last Thursday at home to earn a split with the Winston Churchill Griffins.
Cold and wet conditions made for a defensive battle in the varsity contest as the Griffins came out ahead 7-5. Megan Mankow scored the lone Rebels' try.
"Myers scored a try right at the very end of the game, but were unable to make the convert on the kick," said Andrew Llewelyn-Jones, a co-coach in the W.R. Myers Rebels girls rugby program. "The Winston Churchill Griffins are coached by two U of L alumni, so their rucking and those aspects of their play are very well coached. You could see that in the conditions the teams had to play in."
A slick ball made any flow offensively difficult for both teams as there were many dropped passes on both sides.
"The referee had to set a lot of scrums because of the knock forwards as they call it off the hands," said Llewelyn-Jones. "But, it was a very good defensive display by Myers. Winston Churchill was pressing very hard towards the end of the first half and second half. It was a bit unlucky they couldn't come away with the tie."
The Griffins won the field position game overall in the match, but the Rebels showed its fortitude in a bend-but-not break showing where W.R. Myers stiffened up its tackling and defence when it needed to deep in its own territory.
"That shows how Myers has improved by leaps and bounds in its defensive play. That will put them in good stead for the rest of the season," said Llewelyn-Jones. "The conditions on Thursday were not conducive to a good running game because the ball was basically like a bar of soap out there."
The junior varsity Rebels were able to turn around Myers fortunes in a 17-5 win over the Griffins.
"They improved a lot since their first game. Defensively, the attacking was very good. We still have a lot of work to do on rucking and overall defensive capabilities," said Llewelyn-Jones in the match that was played 13-on-13 because the Griffins could only dress 15. "We've been working a lot on that in practice in anticipation of Vulcan coming up. But the girls were able to express themselves, and they were able to hang onto the ball quite well considering the conditions. We were up against a Winston Churchill team that was made up of mostly Grade 10s which was a pleasing aspect. We are Grade 7 through Grade 10 with a lot of players from Grade 8 and 9."
W.R. Myers Rebels girls rugby team continues its homestand this Thursday with a match against Vulcan. Varsity goes at 5:30 p.m. with junior varsity to follow at 6:45 p.m. at Myers field.
The team then hosts Raymond on April 26 with varsity at 5:30 p.m. with junior varsity to follow at 6:45 p.m. at Myers field.