Myers Rebels hit the diamond
Posted on April 20, 2016 by Taber Times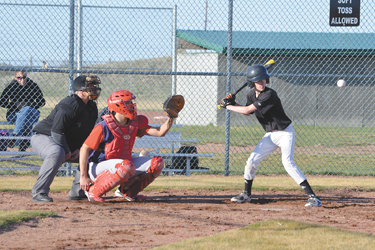 Times photo by Trevor Busch
By Greg Price
Taber Times
gprice@tabertimes.com
W.R. Myers Rebels baseball team split its first two games to start the Southern Alberta High School Baseball League season.
The first was a 14-13 loss to Eagle Butte on the road on April 12.
"We had the lead for most of the game. Darian (Simmons) pitched the first four innings for us and pitched really well, but we had a couple of relief pitchers who struggled finding the zone," said Ryan Hutchison, head coach of the W.R. Myers Rebels baseball team. "We had two bad innings that ended up costing us the game."
It was a game where both sides had troubles finding the strike zone at times as the game dragged on.
"We hit the ball well, but they ended up struggling to throw strikes as well. It ended up being a really long game," said Hutchison.
The Rebels had a strong home opener at Ken McDonald Memorial Park on Friday as the team cruised to a 12-2 win over Maple Creek in six innings.
"We pitched well again. Vance (Fode) pitched five and two thirds innings and pitched really well," said Hutchison. "Their pitcher pitched really well to start, but then started struggling to find the zone in which we got two off of him in the third inning to tie it up. After that, we didn't hit the ball really great, but we found a way to score a few runs here and there to put it out of reach."
The Rebels played Foremost on Tuesday at home with results unavailable at press time. The team plays a doubleheader against McCoy JV at Ken McDonald Memorial Sports Park on Saturday starting at noon. The team then travels to Vauxhall to take on the Vikings on Tuesday at 5:30 p.m. at Jets Stadium.
"We need to pitch a little better and play better defence. If we do that, we should be in every ball game," said Hutchison.